Greetings Fellow IFMA Atlanta Chapter Members:
October was a blur, it was highlighted by none other than the 2019 IFMA World Workplace Conference in Phoenix, Arizona.  It was a blast, lots of fun, scenery, food and oh yes we found time to learn a lot about facilities management too.  Do you recognize these two beautiful ladies, do they look like they're having fun!  Ask Joe Pearson or Tom Haslach, both Past Atlanta Chapter Presidents that showed up and had a terrific time.  Don't let me forget Gail, Christopher, Teresa or Lyle; all there and enjoyed every minute!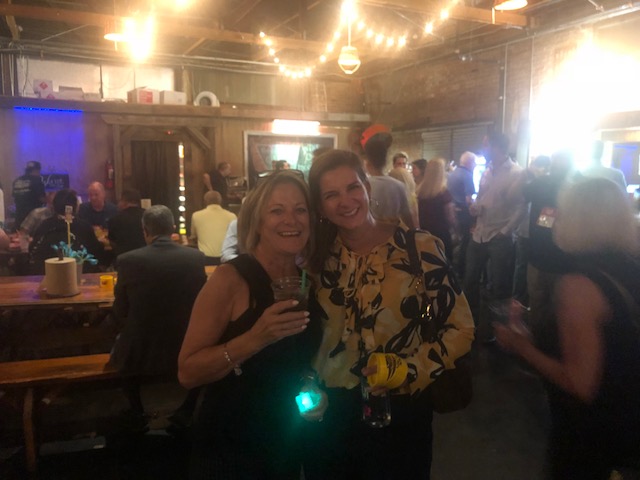 The speakers are always great and brought us the updates on the latest and greatest innovations in our field.  Plus we had the benefit of tours to get a close up look of several interesting facilities in the city.  And if you were adventurous like me you could take a quick drive to Scottsdale or the surrounding towns.  I had a terrific time taking in a couple of rounds of golf.  Others found great deals in the shops and elegant cuisine all over the city
The conference delivered on terrific speakers that gave insights on the economy, IoT and its effects on productivity for FM's, we looked at new CMMS Systems, Asset Management Programs, Floor Planning Tools and Life Cycle Tracking Models.  We were introduced to some great new books and manuals to expand our learning plus we got hands on with facility test equipment like roofing infra-red scanners and borescopics probes, security surveillance systems and HVAC Controls.  Overall it was a great conference and everyone that was there benefitted tremendously.  Our friends from New York won a prize for chapter growth and success similar to the one we won in previous years.
There were great breakout sessions that allowed us to voice our opinions to IFMA brass and we did plenty of that.  It was also great to hear IFMA Headquarters report that they had managed their way back to profitability. They mentioned several times the best practices they'd "borrowed" from the Atlanta Chapter.
Take the time to view the pictures from the conference showing the variety of experiences including the cultural enlightenment provided by Solid's Tour of the Heard Indian Museum that displayed truly astonishing artifacts from decades and centuries past…bottom line: it was an awesome conference and we wish you were there.
Nonetheless, there's plenty going on right here in your Atlanta backyard.  On November 19th we'll have the Green Build Conference, on the 14th we'll have the Community Outreach Event and finally on December 11th we invite you to attend our Annual IFMA Atlanta Chapter Gala at Country Club of the South!
No one ever gets bored for something do at IFMA!  The learning never stops and the people you meet can't be beat.  The classist folks I know that also know how to have a good time.
Come join us!
Happy Problem Solving!
John Means, CFM, CM, FE, SSBB
Director, Facilities Management
Hartsfield-Jackson Atlanta International Airport
PS: Thank you Joe Pearson for creating and executing on the idea of honoring our past IFMA Atlanta Chapter Presidents this too was an excellent event and a well-deserved recognition of the contributors to our present day success.