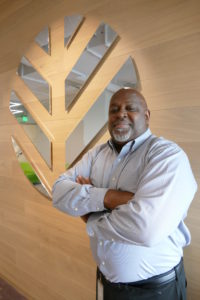 Written by Henri Brickey, Whitco Roofing.
Lee Thomas first realized he was interested in a career in facilities management when a light bulb went off – literally.
About five years ago, Lee was working as an office manager at Graphic Packaging International's global headquarters in Atlanta. Facilities maintenance wasn't part of his job title. But when a light bulb in a conference room projector went out one day, Lee figured he'd pitch and get the projector working again.
"It ended up costing about $1,200 for the light bulb …. and it took more than a week to get it ordered and delivered."
Around that same time, other projector bulbs keep mysteriously going out. Lee was determined not to repeat the process he had gone through to replace the first bulb and decided to investigate the situation.  It turns out, people using the projectors were not turning them all the way off after using them.
Lee implemented two simple steps to solve the light bulb situation, he taught his staff how to properly shut down the devices after use – to prevent future bulbs from going out prematurely – and then he ordered a batch of the hard-to-find bulbs and kept them in stock.
"That way when another bulb went out in the future, we weren't scrambling for a week while we waited for a new one to be ordered and shipped."
And that's how Lee started to become known around the building as the fix-it man.
"As things would fail or break, I'd find a way to fix them," said Lee, who began tinkering with everything from faulty sinks to finicky water filters.
Eventually, Lee realized he had a knack for finding solution to problems in the building that nobody else seemed to know how to deal with. So he did what any professional problem solver would do in that situation – he came up with a permanent solution.
"I applied for a position as the building's facility manager."
He got the job, and today Lee oversees every aspect of the 120,000-square-foot office building – including managing a major $3 million renovation. Right now, he is supervising the repurposing of a former meeting area into a new café with updated eating and vending options for employees who work in the building. It's an idea Lee said he came up with after learning that many of his co-workers were not happy with the closest in-house dining option in the next-door building. Once complete, the new micro market will have shorter lines and more food options for busy employees at Graphic Packaging. It will also allow for more employee engagement now that the dining area will be located under Graphic Packing's own roof.
The micro market in another example of Lee's approach to facility management. Don't just fix things that are broken now, prevent things from breaking in the future and continually seek new ways to add value to the property. And sometimes adding value means asking what employees want in a workplace, something Lee says he and his team constantly keep in mind.
Recently, Lee outfitted a room with a row of treadmill desks for employees who have trouble sitting for long periods of time.
As a result of his efforts, Lee was recently awarded the Graphic Packaging International Leadership Award – one of the most prestigious honors the company provides to select employees.
So how does a former restaurant manager end up managing a facility with over 400 employees?
"By always being green and growing," Says Lee, who grew up in middle Georgia and graduated from West Laurens High School in Dublin, GA.
By being green, Lee means to stay fresh, flexible and vibrant – like a healthy young plant taking in everything around it and growing every day.
"You've got to be able to diversify and make yourself beneficial to a team," Lee says. "If you're not learning new things and growing, you're stagnating."
Lee has taught himself plenty of new things. His first career was in restaurant management – where he worked his way up to executive manager at upscale dining establishments, including Houston's. From there, Lee transitioned into office management and began studying project management and business management at Kennesaw State University. In his previous position, Lee worked as an operations manager for Amino Communications.
Lee learned about IFMA Atlanta through one of his vendors, Trilogy FM, who recommended the organization. He joined IFMA in April of this year and has already hosted a building tour at Graphic Packaging. Lee's favorite aspect of IFMA so far is the opportunity to collaborate and network with other like-minded facilities managers.
Today, Lee says he feels very happy with his career and looks forward to growing with Graphics Packaging. His next goal is to pursue a Black Belt in Lean Six Sigma.
But Lee isn't an all-work-no-play kind of guy.
In his off time, you can find Lee in his kitchen where he bakes a delicious lemon pound cake – among other treats. He also takes pride in his ability to turn an ordinary piece of meat into smoked perfection – ribs in particular.
"Cooking and baking are two things I really enjoy."
Aside from cooking, Lee has one other thing that he looks forward to doing more than anything.
"Every year, I try to take my daughter to Cirque du Soleil. It's a tradition we have been doing since she was about five years old."
Lee's daughter is 16 now and Lee already has plans to attend the next show when the Cirque tent comes back to Atlanta this fall.