SPSU CM MCAA-Student Chapter Named NATIONAL CHAMPION for 2014 and STUDENT CHAPTER OF THE YEAR
It is with pride that we announce that CM Student Team Faculty Adviser, Professor Maureen Weidner, and her team placed first at the national Mechanical Contractors Association of America (MCAA) Competition held on 3/12/2014. To add icing to the cake, the team was also named Student Chapter of the Year at the MCAA National Convention in Scottsdale, AZ.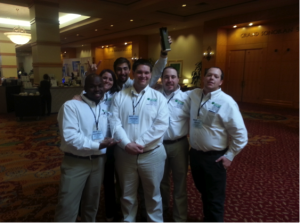 The 2013-2014 MCAA Competition Team members included Wainwright Jeffers, Samantha Anselmo, Andrew Milota, Sean Barden, and Brian Hogue along with Luke Hunter, David Ramos and Brandi Rearden (not pictured).
This year's project, hosted by Kathleen McCauley of McCauley Mechanical Construction, Bridgeview, Illinois, began with a Request for Proposal of a Pilot Plant Expansion Project for Sports Protein, Inc. in Chicago. The SPSU team submitted their proposal for the partial retrofit of an unused space within a warehouse in an existing food production facility, including HVAC, plumbing, electrical, and general trades components. The project was designed to tests students' knowledge about mechanical systems, problem-solving abilities, teamwork, and management skills. In addition to the technical challenges of an actual project, chapter teams were required for the first time to obtain all the project information from a file-sharing website called Basecamp. In addition, rather than copying and shipping their final proposal to MCAA, chapters uploaded their bids onto the site, saving them time and costs.
Twenty four schools across the country submitted proposals for the project resulting in SPSU's team being selected as one of the Final Four to present at the 2014 MCAA National Convention.
Final participants in addition to the SPSU team included:
MCA of Metro Washington Student Chapter, University of Maryland – College Park
MCAA Student Chapter at Milwaukee School of Engineering
Sacramento State Chapter of the Mechanical Contractors Association of America
Each school's team had 15 minutes to present to the panel of judges followed by 5 minutes of Q&A. The Student Teams presented to an audience of over 450 mechanical construction company executives, manufacturers, and other student chapters. In addition, SPSU and the other 3 finalists were included in the Manufacturer's Exhibit which gave all the conference attendees an opportunity to meet the students and discuss job opportunities.
SPSU's Team traveled to Scottsdale Arizona for the final round through the support of Mechanical Contractors Association of Georgia (MCAG). Many thanks again to Jon Sterling, President-MCAG, and Gary Fowler, Executive Vice President of MCAG, for their continued help and support of the SPSU Construction Management department and the success of its students!
---
CM / Turner Construction Tailgate

On a beautiful, sunny Saturday afternoon, CM and Turner Construction hosted a tailgate event for the SPSU Hornets' double-header against Belhaven University from Jackson, Miss. CM and Turner had a big tent, lots of swag to give away, a raffle for some cool SPSU memorabilia, and Braves' tickets.
Hornets won the first game 3-2 and the second game 4-3. Go Hornets!
There was great conversation about the bright future of the Construction Management program. Currently, SPSU has 34 SPSU CM graduates working at the Atlanta office of Turner Construction. Turner has over 40 offices worldwide and our CM department is a great conduit to industry with industry-leading companies like Turner supporting our graduates.
Thanks to the great folks at Turner Construction and the Construction Management group, a great time was had by all.
---
"New U" Officially Names Dean-College of Architecture and Construction Management
All were very excited to hear that Richard Cole, current Dean of the School of Architecture and Construction Management, has been officially named the Dean-College of Architecture and Construction Management. This announcement was made by KSU President, Dan Papp, of Kennesaw State University in preparation for the consolidation of SPSU and KSU.
Dean Cole earned his M. Arch at Georgia Tech and has taught at SPSU since 1987. More recently, he served in an interim dean for the School of ACM from June 2012 until the summer of 2013 when he was promoted to Dean-ACM. Dean Cole is a licensed architect and a National Council of Architectural Registration Boards (NCARB) Certificate holder. He has maintained an architectural consulting practice in the area of commercial design since 1989. He has been instrumental in opening the new ACM Technology lab and facility, overseeing the recent ACCE Construction Management graduate program re-accreditation and NAAB Architecture Bachelor of Architecture accreditation, along with contributing his time to numerous university consolidation committees.
We look forward to a bright future under Dean Coles leadership for many years to come.
---
SPSU Student Awards Banquet
April 11, 2014 marked the 8th Annual SPSU Students Award Banquet. The event was energetic and enthusiastic with faculty presenting awards to many deserving student recipients. There was a diverse crowd with parent, staff, faculty, a few high school teachers, and the SPSU band in attendance.
CM, once again, had the most awards of any department at 30 recipients. The spirit of the event made for a truly enjoyable evening!
Construction Management Leadership Awards
Tanner Wilson
Quindell Myrick
Brian Hogue
Samantha Anselmo
Tejaswi Velagapudi
Construction Management Student Scholarship Awards
AEE Scholarship – Marie Kitchen
Council on Women in Energy and Environmental Leadership Scholarship – Marie Kitchen
AGC Scholarship – Tanner Wilson
Georgia Utility Contractors Association Scholarship – Brian Hogue
Construction Team Awards
Mechanical Contractors Association of America Team (In the top four teams in the US for three consecutive years)
Luke Hunter, Samantha Anselmo, Andrew Milota, Brian Hogue, Brandi Rearden, Wainwright Jeffers, Sean Barden, David Ramos
Associated Schools of Construction Team
Luke Hunter, Wainright Jeffers, David Ramos, Bryan Harris, Ben Lambright, Brian Hogue
NECA/Electric Team
Samantha Anselmo, Brian Hogue, Mycah Dabbs-Brown
ABC Team
Andrew Milota, Samantha Anselmo, Tanner Wilson, Edib Cengic
Who's Who Nominations – Construction Management
Tanner Wilson, Quindell Myrick, Brian Hogue, Sean Barden, Luke Hunter, Mycah Dabbs-Brown, Andrew Milota, Edib (Eddie) Cengic, Samantha Anselmo, Wainright Jeffers, and Tejaswi Velagapudi
Congratulations All! And many thanks for your contribution in making this a great program! We are very proud of each of you!