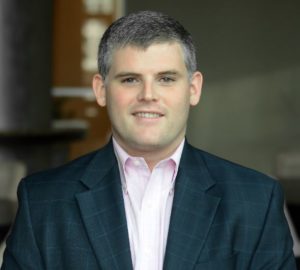 written by Teresa Cox
Rusty Misenheimer did not set out to establish a successful career in Facility Management.  Like so many FM professionals, Facility Management found him. His first job after graduating from Appalachian State University was in the steel industry in Richmond, VA. With a degree in Construction Management and minor in Business Management, Rusty caught the attention of a Norfolk Southern recruiter and in the summer of 2011, he moved to Roanoke to accept an FM role with Norfolk Southern. In 2014, Rusty and his wife moved to Atlanta as part of a headquarter consolidation effort within Norfolk Southern. In December 2016, Rusty made the transition to HD Supply.
Now the Facility Manager over HD Supply's Corporate Facilities, Rusty is responsible for directing and managing all facility related aspects of the Atlanta Global Support Center and Orlando Global Support Center. HD Supply is one of the largest industrial distributors in North America. The company provides a broad range of products and value-add services to approximately 500,000 customers with leadership positions in maintenance, repair and operations and residential and non-residential construction sectors. Their leading businesses include HD Supply Facilities Maintenance and HD Supply Construction & Industrial – White Cap
Interesting fact about Rusty, he spent nearly a year in Indonesia as a young teen, where his parents did mission work.  His experience made him grateful for all the things we take for granted, including access to healthcare and education.
Rusty was active with IFMA Atlanta when he was at Norfolk Southern and plans to get back    involved with our chapter.  "It is so helpful to network in this organization, to have the ability to collaborate with individuals working in the same arena, facing similar challenges.  In FM, you touch so many people in so many departments. The key is to prove to people that you are willing to be their advocate, to help them be successful while also driving change."