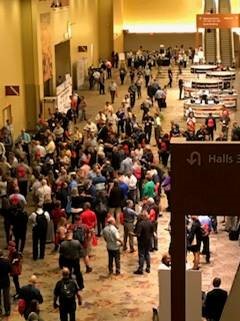 by Joe Pearson
Thanks to IFMA Atlanta's annual member scholarship, I had the privilege to attend World Workplace in Phoenix (IFMA's premier conference) and represent our great chapter. Reflect. invigorate. Connect. Those 3 words describe the roller-coaster of emotions I experienced in Phoenix. The gorgeous Arizona landscape & architecture, the incredible speakers with timely content and the opportunity to connect with colleagues that are more like family left me thankful and humbled. Instead of writing about the record setting attendance and the most diverse line-up of learning from any World Workplace I've attended, what this week reminded me of is how good IFMA has been to me.
As I shared with the Past President's Counsel a few weeks ago, I got involved in IFMA Atlanta when a colleague and Past President, Harry Ludwig, asked me to get involved. Thanks to Harry taking the time to ask me to get involved, I have been exposed to incredible opportunities and have grown as an FM, speaker, leader, husband, father and person. One of the most satisfying experiences is when I'm asked to speak to a group of students or invited to join fellow board members and talk about IFMA Atlanta-both of which happened in Phoenix.
I was very proud to see 6 other former Atlanta Chapter Presidents in Phoenix as well as several IFMA Global Past Presidents from our chapter. I was proud when Georgia Tech, Kennesaw State and several of our members were recognized for FM and scholarships. I was proud when Kathy Roper and several other Atlanta Chapter members spoke at WWP as knowledge experts. Because of IFMA, I've met some of the most amazing people and I'm a better person and FM professional because of it. IFMA has been very good to me and despite all of the volunteer hours, I'm the true winner. That is my wish for you… get involved. Join a committee, volunteer to help with an event and you never know-you may end up 7 years later reflecting as well and thanking God that you said yes. I'm honored to be part of such a great organization with a rich legacy of over 38 years and some of the best people you'll ever meet.