SPSU Corner – February 2014
 Dr. John Mench Named Fellow in the Association of Energy Engineers (AEE)
John Mench will attend the national convention in fall 2014 to be honored as a Fellow of Energy Engineers. He is one of the distinguished few that will be recognized as having made significant contributions to the energy management and alternative energy industry.
The AEE is an engineering society with 16,000 members in 90 countries and is widely recognized for its energy certification programs. Dr. Mench has served the AEE for over 10 years.
Southern Polytechnic State University's CM Team makes the Top Four in the US for the Third Consecutive Year
We received very exciting news this January when the top four competing teams were selected out of 24 student chapter teams for the final round of the MCAA (Mechanical Contractors Association of America) National Student Chapter Competition.
This year's project was designed to tests students' knowledge of mechanical systems, their problem-solving abilities, teamwork, and management skills.  Hosted by Kathleen McCauley of McCauley Mechanical Construction, Bridgeview, Ill., the project involved the partial retrofit of a food processing plant outside of Chicago. In addition to the technical challenges of an actual project, students faced significant changes in the administration of this year's competition. For the first time, chapter teams obtained all the project information from a file-sharing website called Basecamp. In addition, rather than copying and shipping their final proposal to MCAA, chapters uploaded their bids onto the site, saving them time and costs.
The judges included Kenneth Durr of Durr Mechanical Construction (New York, NY), Roeland Hoeke of H.T. Lyons (Allentown, PA), John Powell of Lawson Mechanical Contractors (San Leandro, CA), and J. L. Williams of Ryan & Associates (Davenport, IA).
The four finalists include:
MCA of Metro Washington Student Chapter (University of Maryland – College Park)
MCAA Student Chapter (Milwaukee School of Engineering)
Student Chapter of Specialty Contracting – Mechanical/Electrical (Southern Polytechnic State University)
Sacramento State Chapter of the Mechanical Contractors Association of America
Other participating MCAA chapters included:
California State Polytechnic University at Pomona
California Polytechnic State University, San Luis Obispo
California State University, Chico
Central Washington University
Colorado State University
Fairleigh Dickinson University
Illinois State University
Iowa State University
Kansas State University
Kent State University
McMaster University
Northeastern University
Northern Kentucky University
Oregon State University
Purdue University
Pittsburg State University
University of Nebraska-Lincoln
University of Washington
University of Wisconsin-Stout
Wentworth Institute of Technology
Lead by Professor and Faculty Advisor, Maureen Weidner, SPSU team members Luke Hunter, Samantha Anselmo, Andrew Milota, Brian Hogue, Brandi Rearden, Wainwright Jeffers, Sean Barden, and David Ramos are advancing into the finals. Each of the finalists will present their proposals at MCAA 2014 in Scottsdale, Arizona on March 11, 2014. The winner will be announced during the Annual Awards Ceremony on March 12th.
The Construction management Department would like to thank and acknowledge the support provided by the Mechanical Contractors Association of Georgia (MCAG) in funding the SPSU CM Team travel to the venue of the Final Four Teams. SPSU's Team placed first in the national MCAA Competition held in Orlando, Florida 2012 and third in the national MCAA Competition held in San Antonio, Texas in 2013. We remain grateful to Mr. Jon Sterling, President of MCAG, for his help and support for the SPSU's Team last year and look forward to sending SPSU's Team to Arizona through the support of MCAG in 2014.
Kudos to Professor Weidner and her team for making it into the final! We are proud of you!
Anthony Maddux Receives Facilities-Management Award
Anthony Maddux, Assistant-Director of Facilities Management, was presented with the Achievement in Facility Management Award by the Atlanta Chapter of the International Facility Management Association (IFMA Atlanta) during the organization's awards luncheon on Dec. 18, 2013.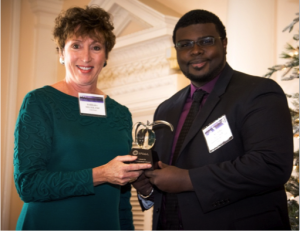 The award is presented annually to an IFMA member whose facility-management program has made demonstrable and successful contributions to more effective management of the individual's organization facilities.  It also highlights the importance and significance of professional member accomplishment to the future of facility management.
Anthony, who joined the SPSU's staff in 2011, does not only manage the day to day operations of SPSU's facilities maintenance, but is also a proud alumni of the SPSU Construction Management Department.
The award was presented during the organization's awards luncheon at the Piedmont Driving Club on Dec. 15, 2013.
New Instruction Based Courses Being Offered
Professor Brandi Williams is offering instruction-based courses in Spring 2014 for Facility Management (FMP).
Jennifer Woods and Lucy Barksdale Speak to SPSU Construction Management Students About WIN (Women in NECA)
On February 4, 2014, Jennifer Woods with United Electric and Lucy Barksdale with Miller Electric Company made a presentation to agroup of SPSU students about their experiences as women in con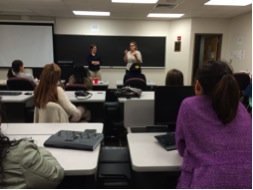 struction management. Tips were included to promote interview skills development along with ways to
excel once hired. There was a lively conversation and the attendees came away from the presentation with a far better understanding of the strengths they bring to the field.