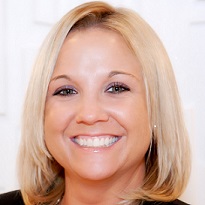 April was an extremely fun and eventful month!  Work was super busy (a true blessing), Conner and I went to the beach for Spring Break, softball was in full swing (literally!) and IFMA held two annual events – Facility Fusion and the Spring Classic.
Facility Fusion took place April 12- 14 in Indianapolis, Indiana and attracted hundreds of facility management professionals from around the world.  If you have never been to Facility Fusion, it's comparable to World Workplace but on a much smaller scale.  The conference consists of educational sessions, facility tours, an expo floor and of course exciting, inspirational keynote speakers.
The educational tracks fell into one of six categories, most which I attended fell under "IFMA Volunteer Leaders Training." These sessions covered leadership and management trends and topics for IFMA chapter & council officers.  From these sessions I gained many ideas and insights such as new marketing strategies, attracting & retaining Young Professionals and creating monthly programs with impact. I can't wait to share all the exciting, innovative ideas with the board at the upcoming annual Board Retreat!
I attended the Young Professionals Happy Hour during which I connected with other Young Professionals from all over the country in addition to IFMA staff members.  We shared best practices such as fundraising ideas, membership recruitment tools and succession planning.  We also gave IFMA staff members our ideas about what we would like to see changed, what works best for us, what IFMA doesn't currently offer that we would like to see offered and much more.  It was a very productive and fun evening!
Being as the conference was less than 5 miles away from Indianapolis Motor Speedway, there was a race car simulator on the expo floor. I got the chance to drive it and for about 5 minutes, I had the fastest lap time amongst the drivers. Needless to say, my first place position didn't last long!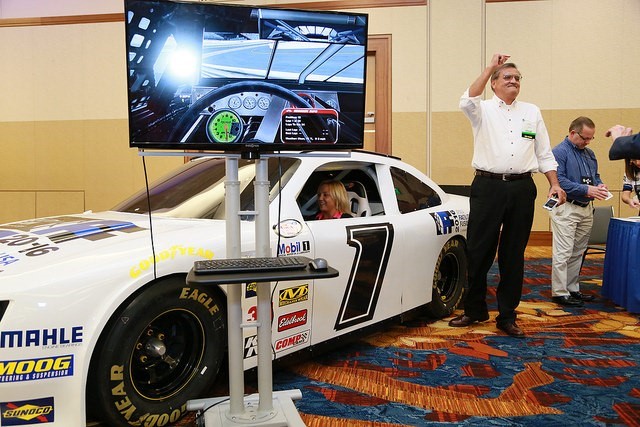 Myself (sitting in the race car) & John Carrillo, Chair – IFMA Foundation, Director Corporate Real Estate – AT&T West Region
Overall the conference was a huge success not only for myself but all of the attendees.  I had a great time, learned many new things, met a lot of new people and caught up with some IFMA members from across the country who I only get to see at these conferences once or twice a year.
The second IFMA event in April was the Spring Classic.  This was by far the MOST successful Spring Classic we have had since we started it, raising over $20,000 this year! Words can't even express my gratitude to Steve Christopher, his entire committee, and all of YOU for attending.
This was Steve Christopher's 16th and final year chairing the Spring Classic and did he ever go out with a bang!  I presented him with an award from the Chapter for all of his fundraising efforts. Over the years he has helped raised over $150,000 for our Chapter.  He is in fact one of the most dedicated, passionate members of our Chapter and it truly shows. Thank you for everything you have done for IFMA Atlanta, Steve!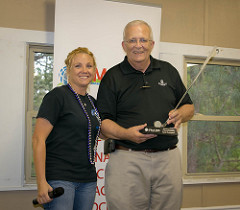 Myself & Steve Christopher with his award
As always, I welcome your comments, questions and suggestions.  Feel free to contact me anytime at Christy.Lowell@FloodBrothers.net.  Have a fantastic May!