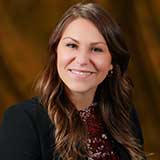 Lauren grew up in West Palm Beach and graduated from the University of Central Florida with a bachelor of science degree with a focus on Physical Therapy. She changed her plan to become a physical therapist just before pursuing her doctorate because she realized she hated PT. She got burned out because it was a tough job getting people to listen and do the work to feel better. Working out and staying healthy, she loved the human body and the mechanics of how it works. She loves all kinds of fitness. She stays very active and does all finds of exercise such as running 5Ks, yoga, boxing, lifting weights, barre class, and hiking.
She grew up a blended family with a brother, step-brother and step-sister; all of them older than she. Recently married, she lives in Cumming with her husband and 4-legged fur child. They plan to grow their family in the future.
Lauren's 1st job was in a pizza place when she was 15, and she made enough money to buy her first car. Her life changing job was in a bar called the Coo Coo's Nest where she met her husband, the majority of her best friends in Georgia, and the owner of the company where she last worked who got her into this industry. He recognized she had a knack for people and asked her to come on board to do new business development. After a couple of years of sales training and learning from that company, she took her position at Rose Paving. She never thought in a million years she would be selling parking lots, but here she is now and she loves it. She has been with Rose Paving for 3 ½ years.
Her favorite place to vacation is Hawaii & Napa Valley. There is just so much to do on the islands and there is just this atmosphere that hovers over. She loves to drink wine, and she feels when she is in Napa Valley she is at home. She loves the relaxed pace Napa offers with all the amazing view, food, & wine. She hopes someday to make it to Australia.
Lauren recently finished a book called "The Year of Less". It opened her eyes to think about saving and how much is spent on things you don't really need. She's learned, in the moment, she thinks those "Things" are going to bring you happiness, but they don't. Its friends and family and quality time vacationing and exploring that truly makes her the happiest. So, she tells herself, "Lauren, put those shoes down".
If given the chance, Lauren would like to be a comedian for a day. She imagines a person who can run through life laughing at themselves and turning everything into a fun filled situation.
Lauren's greatest personal achievement was buying a house solely on her own with no help at the age of 24. It was the first time in her life where she felt she had done what she had said she would do. She turned talk into action.
She surrounds herself with great people. Her drive and need to succeed is the most important contributor to her success.