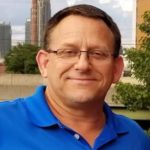 Mark Kelley was born and raised in Talladega, AL, the older of 2 boys.  Mark loved playing youth sports growing up and it is his favorite childhood memory.
Mark has been in his current field for 34 years and 28 years with J.J. Morley.  His first job was in waterproofing during his teenage years on weekends and during the summers. But the craziest job Mark had when he was younger was boiling crawfish for his uncle's convenience store in Baton Rouge Louisiana.
Growing up in the waterproofing business, working weekends and summers throughout his teenage years, Mark enjoyed the money, so when the time came for college he decided it wasn't for him and stayed in the workforce.   Mark has worked his way up the through the ranks from grunt labor to now VP of Operations.   His favorite aspect of his role is "the daily close camaraderie with my waterproofing division team and our office and admin staff."  Mark firmly believes that starting at the bottom and personally performing every task that he is charged with overseeing currently has contributed to his success.  He also feels another big part of his success are his co-workers, employees, customers, vendors, etc that he has been able to forge friendships and working relationships with.  Mark's moto for success is "Don't over-promise your performance, but perform no less than what you've promised."  His philosophy when it comes to business is, "Work hard to build and work harder to maintain a trustworthy relationship with employees, customers, vendors, etc."
When asked what his biggest challenge during his career has been Mark says "Navigating through the last recession of 2008, 2009 and the pressure of trying to bring in enough work so our employees can provide for their families. Vowed not to have to lay anyone off, ultimately coming out maintaining 95% of our employees. Hardest I've ever worked in my life."  Currently, his biggest work challenge on a daily basis is "continuously working to secure incoming jobs and to try and maintain constant production throughout the year for both the work crews' paychecks and for company profits.
Mark's typical work day "starts with a lovely metro Atlanta commute to Alpharetta, then answering the obligatory late eve/early morning emails, check in with the field crews at start of the work day, work on some estimating and submittal of misc. proposals, fending off any unsolicited sales calls, signing numerous bids, bonds, contracts, checks, etc for our three (3) in house divisions, working on my bowling ball, hatchet, and cat juggling, then drive the gauntlet back home………..nothing out of the ordinary."
Mark and his wife of 22 years have 2 children and reside in Kennesaw.  The furthest place he has ever visited is Cabo San Lucas, Mexico.  However, his favorite place to vacation is Destin, Florida.  Mark's favorite hobby is lake activities, riding jet skis, fishing, etc.  To de-stress after a long day or week, Mark likes to mute his cell phone and veg out in living room watching tv with his family, you might just catch him watching Shameless or Ozark on Netflix. One thing many people may not know about Mark is "I am a huge Alabama fan, however I don't "hate" Auburn……call it Home State Pride, I guess. (I do hate Tennessee though)"  Mark's greatest personal achievement is being married 22 yrs and a great father for 21 yrs, so far.
Mark is a new member to IFMA Atlanta.  A deciding factor in his decision to join is the ability to network and build relationships with facility managers, building engineers, and other industry peers.  "Many member peers have spoke highly of the group and how it has helped them, so I expect nothing but the same from the work I'll put into it."  Mark is also involved in BOMA (3 chapters), ICRI (International Concrete Repair Institute) (3 chapters), SWRI (Sealant, Waterproofing and Restoration Institute), and ACI (American Concrete Institute).