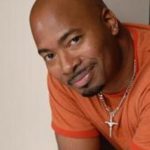 Born in Bronx, NY Christopher McArthur is the youngest of 3 boys.  Chris was raised by two hard working divorced parents.  His mother was the first woman to break the gender barrier and work at the 14th Street Sub Station for ConEdison and his father was a chef for the Yale Club in New York City.  One of Chris' fondest childhood memories is being in the kitchen with his dad on Sunday mornings and helping him cook breakfast.
Childhood wasn't a piece of cake for Chris. Growing up, he had a very bad speech impediment, he stuttered.  "This caused me to be a very shy in new settings and I hated being called on to speak aloud in class".  Who would have thought, that same young man would now find himself thriving in new settings regularly and be the person that represents his company's brand and products on a national level. He is a strong advocate of speech therapy!  Not only did Chris overcome his speech impediment, one of Chris' greatest personal achievements is "as a high school dropout, going back to school, getting my GED and soon after earning my Bachelor's Degree for DeVry University."  Chris received a degree in Business Administration with a concentration in Information Systems.
Chris has been in the marketing field for 25 years.  His first job was working for Jiffy Lube, and later worked in Marketing & Promotions within the music industry.  He was looking for a change when he landed a position at APCO Graphics.  Starting out as a marketing assistant Chris has worked his way up through the company to Marketing Manager.  One of the most important aspects that has contributed to his success, in his opinion, is "the people that I work with and learn from."  "I enjoy the people I work with and I enjoy connecting with and meeting new people in the industry."  He has a philosophy that "a smile is the cheapest gift that anyone can give… so why put a price on it?"  Chris also believes in the law of attraction.  "If you place good energy into the universe, you attract that energy." 
When asked what his biggest challenge at work is he says "Staying on top of emails and trying to anticipate the unknown variables.  My typical day consists of answering emails, checking off my to-do-list and prioritizing what samples, marketing campaigns or tradeshows needs following up on."
Chris and his wife of 11 years live in Kennesaw.  Chris has a 17 year old daughter from a previous marriage. The furthest place he has ever visited is Montego Bay, Jamaica.  However, his favorite place to vacation is wine country in Sonoma, California.  Chris' favorite hobby is watching football, the Atlanta Falcons of course, or doing yard work.  To de-stress after a long day or week, Chris will either workout to Linkin Park and/or JayZ or ride his mountain bike in his neighborhood trail listening to either some music by Hans Zimmer or Hillsong United.
Chris' company, APCO, has been involved with IFMA Atlanta for 25 years, therefore that was a huge factor in his decision in joining.  "Moreover, I always felt welcomed whenever I have attended events for the Atlanta Chapter.  I noticed that I was surrounded by members who had a wealth of knowledge, resources and were generally a great group of peers.  It was just natural for me to want to be more involved."    Chris believes his IFMA Atlanta membership benefits have been kind of built-in or grand-fathered in if you will.  But since I have been active, I have definitely developed some great relationships and friendships with in the Atlanta Chapter.