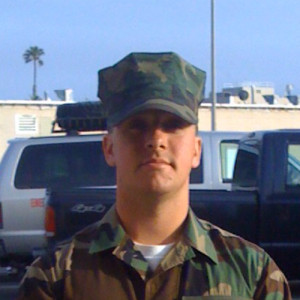 Our Membership Spotlight for October is shining on KSU student Dan Wurzel. A Michigan transplant to Atlanta at age 12, Dan's affiliation with the industry goes back to early beginnings. His mother moved the family here when she founded Environmental Consulting. The company is still based out of Atlanta with almost 200 employees, but the family has all relocated to other parts of the US leaving Dan as the lone Atlantian.
Dan began his career in the auto industry as a service provider where he learned how to juggle the needs and demands of many. He then entered into the United States Navy as a Special Warfare Combatant Craft Crewman where he was able to work alongside the Seabees and began a love for construction. Dan says he has always had a love for construction, and after his 4 years of service in the Navy, decided to put his GI Bill to good use and enroll at KSU. For Dan, the construction world and the navy share a lot of the same structure which is a natural fit for him. While a student, Dan currently works in the Aviation Division at Hartsfield Jackson Airport and intends to continue working for them expanding his role and the company's into a Facility Management environment. Dan will graduate this December. He shared with me that learning from Professor Brandi Williams created a desire in him to follow the Facility Management route. "She is my mentor and she gets excited about what she does…she loves it." With a 60+ hour work load, attending KSU, and spending a minimum of 2 hours in his daily commute, Dan says the balance of it all has been his greatest challenge in obtaining his degree.
With graduation not far away, I asked Dan what his dream job would be. "My current job is my dream job" he shared, "What I do on a daily basis is fun!  I would love to see more of an effort for sustainability at our airport. We are the busiest airport in the world and one of the largest. As the busiest, we are a beacon for other airports, an example they strive to achieve. I would love to see our airport as a beacon for sustainability efforts."
Being a part of the Atlanta Chapter of IFMA "opened my eyes to what is out there" Dan told me. He says that Professor Williams helped him see that there is no limit on sustainability, and that we can be more efficient with what we have. "I like organization and efficiency, things I learned from my Navy days." Dan's father relocated back to Michigan as a windmill technician and while he is very proud of the work his father does, Dan also believes "You don't need solar panels or windmills to be sustainable".
I asked Dan to share something with me that others might not know about him. This amazing young man actually went through the process of trying to walk on at Auburn for their Swim Team. Knowing that Auburn had several NCAA National Championship titles and has been regularly represented in the Olympic Games, this was a bold ambition. While Dan did not make the Swim Team, he did go on to participate on their Water Polo Team.
Dan also has a love of golf, fishing and woodworking. "I had no idea how to use a lathe, but I taught myself a few months ago so that I could make my own wedding band out of walnut."
Dan also shared another interesting fact about himself. While in the Navy, he was injured and to date has had 4 surgeries with one more looming in the near future. After being injured he was re-stationed to Pensacola, Florida where he worked in Security for the Navy in the brigg and as a bailiff.
When we meet ambitious young people, one of the questions we all wonder about is "Who was the most influential person in your life?" When this question was posed to Dan, he did not hesitate one second in saying "My mother. No one works harder than my mom. She is where I get my work ethic and my love for the environment. She is who I strive to be like in my own life. Her 'not knowing when to quit attitude' inspires me." Dan claims that he was a "wild and crazy child, stubborn and hard headed". His mother shared with him that often times the traits our children have when young that we struggle the hardest with are the actual traits we admire in adults. "The fact that my stubbornness didn't lead her to kill me as a child actually helps me now in my adult life".
Dan's favorite quote is "I'm a great believer in luck. The harder I work the more I have". And with the new season of television shows rolling out, I asked Dan about his favorite shows. "When the Falcons are playing" was his infamous comeback. We closed the interview with my asking him if given the chance, who would he want to be for one day. "I like being me…who else?"