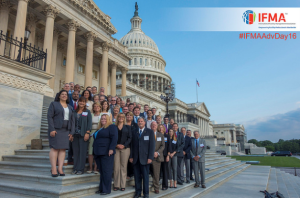 Jorge Pineyro and Joe Pearson represented the Atlanta Chapter by serving as IFMA Advocates at the annual Advocacy Day event in Washington D.C., September 6-7. Over 60 IFMA advocates attended from varous chapters/cities to help elevate FM and related policy concerns. There is significant interest in public policy that affects the built environment and a critical need for perspective from FM's to help educate government leaders so they are making informed decisions. For example, over 72% of the buildings in the U.S. are over 20 years old and more than half of the facilities that will be in use by 2050, have already been built. IFMA Advocates met with dozens of Congressmen and Senators about passing a comprehensive energy bill, properly maintaining and managing buildings and other bipartisan fiscally responsible iniatives. Through IFMA's Advocacy Program, we continue to shape legislation, educate policy makers and ensure that the voice of the FM is heard. These efforts have translated into visible impacts on major pieces of legislation and making FM priorities critical issues in this Congress.
"Needless to say, D.C. was even more interesting than usual with the Presidential Election in process, but what we advocate for with IFMA is not rhetoric from a single party. The critical initiatives we're pursuing (disposition of 500,000 government buildings that are either vacant or in very bad condition, comprehensive energy bill, 85% of the cost of the life of a building is for operations and maintenance thus the need for education and understanding on how to properly manage that building and operations) impact all Americans and are common sense initiatives for Democrats, Independents and Republicans alike. It is an exciting time for our industry and Washington is starting to listen and understand that real change is needed and IFMA professionals are a key asset."
In addition, Jorge Pineyro found Advocacy Day an amazing experience and a privilege representing IFMA in DC.  He also said that he enjoyed interacting with Congressman and Senators, learning about how IFMA is making an impact on educating the government and helping them pursue the best practices for building management.  He also found that legislators were really open to hear about new ways and ideas that IFMA has to offer to keep improving thousands of buildings around the USA.  At the same time, he realized that IFMA is key for this to happen.
If you're interested in learning more about how you can get involved in this area, consider joining the IFMA Government Affairs Committee so you can help determine IFMA's Legislative priorities and frame FM's engagement on the Federal, State and Local level. Contact Joe Pearson for more information.