Membership Spotlight – Henri Brickey with Whitco Roofing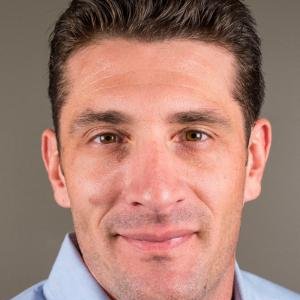 Written by Debi Gilbert (Chosen Janitorial)
Our Member Spotlight for May is shining on Henri Brickey with Whitco Roofing. Henri's name may ring a bell with several of you, as he has been writing our Member Spotlights for the past few months. As you read his story, you will begin to see why we felt he was the perfect person for this task.
Born on Ft. Knox in Kentucky, Henri was a military brat. However, he really has no memory of Ft. Knox, as his dad was transferred when he was only 2 months old, to Ft. Drum in New York. In Henri's words, "way up state, 10 miles from Canada, in Watertown, NY". Both of his parents were originally from that area, and he remembers that "TV stations were like 50% in French and 50% in English".
Henri lived in upstate New York until he was 5 years old. "That's when the winter of 78 hit," and Henri's family along with two of his dad's brothers and their families, decided enough snow was just that…enough. So the three families loaded up three u-hauls, and began a caravan across the United States in search of warmth and sunshine. They found just that in Tucson, Arizona. Wide open spaces with blue sky as far as the eye could see, and lots of sunshine. Fortunately, the economy was also very good in Tucson at that time, and all three families settled in on the outskirts of Tucson and made a new home.
After graduating from high school in Tucson, Henri decided to do a little bouncing around during his college years. He spent time in Portland, Oregon and then moved to Denver, Colorado to pursue a journalism degree. It was here in Denver that he and his wife met. She was from Japan studying for an English degree. Henri had chosen Japanese as his foreign language, "too many Karate Kid movies while growing up", and she became his tutor. "Yes, I had a dream as a young boy of learning Martial Arts and becoming a 'Mr. Myagi'." When the time arrived for his future wife to return to Japan to finish her degree, they began the "long distance relationship". This was not working for either of them. Mainly due to the fact that there was no internet, no emailing, no face-timing, but instead the long forgotten, traditional act of letter writing with a postage stamp. It did not take long for both of them to realize they were both miserable without the other. Thus, Henri took a semester off from college, lined up a gig working at an organic farm in Japan and teaching English for room and board. When he floated his plans by his future wife her response was "Ridiculous, work with my dad and stay with us. My dad is a General Contractor and Custom Carpenter. He will put you to work. But I do need to warn you, he is a crusty old carpenter guy, not fun to work with, and speaks no English."  "Great" replied Henri, "I'm on my way."
Henri's Visa would allow him to stay in Japan for 3 months at the time. He ended up going over 3 different stints, working with his future father-in-law a total of 9 months. When it came time to return to the States the last time, Henri knew it was time to marry this woman. Little did he know that he would actually get married twice! The first time was in the States, and then they both returned to Japan as a married couple where they had their second wedding ceremony.
Henri had secured a job at this time in Japan as an English teacher. His gig provided a house for them, and was a 3 year renewable contract. At end of his first year, Henri was stir crazy. "A year of sitting in a class was harder than I thought it was going to be." A man meant to be "out and about", being in a classroom was not going to cut it. So Henri once again returned to the States. He came alone, secured a job with a newspaper, found a home, and within two months was reunited with his wife.
She had finished her English degree, and had also obtained a translator certificate. Planning to be a translator or a tour guide or even work for an airline, they had a big surprise in store. Within a month of being in the States, they discovered their first child was on the way. Their son arrived in 2001, followed by their daughter in 2003, and the family decision was made for his wife to not work outside the home, but rather focus on raising their new family.
As a newspaper journalist, Henri realized that "there is only one gig in each town". Over the course of nine years, Henri worked for newspapers in Arizona, California and Texas. As the Internet began to take off, the print industry began to go down. He began to "freak out" as he watched newspapers lay off as many as one-third of his fellow journalists, and began to think about diversifying his skill sets. This led to Henri deciding to start his own business when the family relocated to Texas. While in college, he had worked for a company doing restaurant pressure washing, and decided to set up shop doing this as his own business. It did not take long for Henri to realize this was a "horrible job" from a personal standpoint, although lucrative from a professional stance. Working all night, on the roofs of restaurants, pressuring washing and cleaning ventilation systems in the cold…no fun. Professionally however, his business took off, growing by leaps and bounds. After a few years, Henri was able to sell the business for a nice profit and thought "That was fun, owning my own business, and I want to do that again. But not with the pressure washing." His idea was to learn another trade that didn't require being up all night pressure washing roofs. His research led him to thinking how his prior clients would often ask him "Hey, can you fix that leak while you're up there?" He couldn't, but he decided to learn how. And this led to Henri moving his family to Atlanta and going to work for Whitco roofing. Initially, his plans were to learn as much as he could about the roofing industry and then start his own company. However, that changed when he realized he didn't really want to own his own company any longer. Working for someone else gave him the satisfaction of his contributions and his work, and he decided to stay with Whitco and grow with them. As is true with the majority of Baby Boomers, Henri reinvented himself a few times over, finding ultimate satisfaction here in Atlanta working for Whitco Roofing.
"So outside of work, what does your down time look like as a family?"
"We are outdoor junkies. I get restless inside four walls." And fortunately for Henri, his children and wife are the same. This family enjoys camping, fishing, hiking, and running. The family runs together and travels together to support one another on "solo runs". His son is on the Cross Country track team at his high school, and the family enjoys supporting his competitions.
"Is the Japanese culture a big part of your family life?"
"Absolutely!"
Henri's children and wife return to Japan every three years for the entire summer break. Unfortunately, due to work schedules, Henri himself has not been back in over fifteen years. However, the family is "very Asian" when it comes to their meals and way of life. "Rice is a daily standard, along with Miso soup."
"My wife does not speak Japanese to the kids, and I am no longer fluent. So we speak English 90% of the time with a sprinkling of Japanese."
The Japanese society is minimalist in nature, i.e, no huge houses, clutter, etc. "That is a definite part of our family life." Henri's mother-in-law has never had a driver's license and has lived in same house she was born in for her entire life. "She could pack everything she owns in 2 suitcases and leave." Henri's family has adopted this minimalist lifestyle, and it works well for them.
"You've lived in several parts of the country. Where is your favorite?"
"I love Atlanta with all of the green and having four seasons. However, nothing beats the beauty of Southern Utah. I took it all for granted growing up, but those wide open spaces and blue skies will always hold a special place in my soul."
"Share something with us that no one knows about you."
"I'm a bit of a Luddite, someone who frowns upon technology. I believe we would be better off if the Smart Phone had never been invented. While I admit I depend on my own Smart Phones for successes in my career – I carry not one, but two – I hate the dependency of the darn gadgets. I would like to move time back to the day when we looked one another in the eye for conversation. A day where everyone in a meeting is not looking at their phones, but rather is engaged in the present conversation. In summary, I crave the simpler times before technology took over so much of our lives. Perhaps it is a throwback to the demise of the newspaper industry."
Henri has been a member of IFMA for 6 months. The part he has enjoyed most is "being able to talk to other members". He immediately expressed interest in joining the Communications Committee. (side-note from interviewer: We were thrilled with his decision) He wasn't sure what his role would be, but knew that there were FM's with specific needs and felt that in order to be effective he would need to understand these needs and challenges. "Joining IFMA gave me the opportunity to learn these things. And being given the opportunity to do spotlight interviews each month has opened my eyes. Even to the point of talking to my children about pursuing an FM degree."
Moving forward in IFMA, Henri would like to become someone who is known as a source of knowledge, someone whom others can approach for answers to questions they may have. In particular roofing of course, but he is also interested in getting his LEED certification and very interested in learning more about sustainability and how it affects the FM.
"I want to learn a bunch. So many know so much, and I feel I've barely scratched the surface. I can't wait to learn more from more."
"Do you have a final message for the IFMA Atlanta membership?"
"If I come calling to write a story about you, I hope you now know who I am and will take the call. And I appreciate the Communications Committee for allowing me do this."