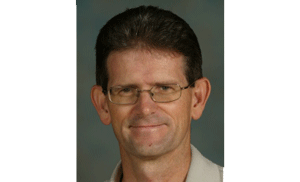 William D. Broome, CFM, SFP, LEED Green Associate
The Westminster Schools, Director of Facilities
IFMA Member since 1988
What motivated you to enter your career? I have always enjoyed construction and repairing things, since I was a child.  Also I tend to be a maintenance fanatic.
How long have you been in your field? 28 Years
What other professional organizations are you involved in? None
Tell us something that not many people may know about you?  I love being on the water so much that I own my own boat, and take lots of cruises.
What was your first job? Working part-time at Kmart Craziest job? Playing Santa Claus at Kmart one Christmas
What is furthest place you have ever visited? Hawaii
How did you end up in facility management or the position that you are in? A childhood friend's older sister knew my current boss and that they were looking for a new Director of Facilities to replace one that was retiring. 
What is your personal secret to success or personal motto? Always go the extra mile
What has been the most important aspect that has contributed to your success? Always doing my best and never quitting no matter how hard the tasks, because you never fail until you quit trying.
What has been the greatest challenge you've experienced in your career? Making difficult customers happy, to the point that they always request me when they have a problem.
What is your biggest pet peeve at your job? People who don't do their best.
How do you de-stress? Going out on my boat to fish.
How has your Atlanta Chapter IFMA membership benefited you and/or your career? It has given me a vast network of friends to help answer questions, mentor, and support me in my career.
What is your favorite Hobby? Boating
What is your business philosophy? Work hard with integrity and you will be rewarded.
Have you read any good books or seen any good movies lately? The new Vacation What did you like about it? It was almost like a sequel to the original, tying the old and new together in a different story.
What do you find the most challenging at your job? The month before school starts.  It's really busy at Westminster during that time of year.
What aspect of your role do you enjoy the most? Mentoring my staff
What is your greatest personal achievement? Winning the Shelia Sheridan Award for Sustainable Facility Operations and Maintenance, which in turn led me to win the Global FM Award of Excellence.  I never thought that I would win such prestigious international awards.
Awards:
Global FM Awards of Excellence in FM Gold
June 2015:  For my actions in helping The Westminster Schools to move to a more sustainable campus and our outstanding energy use reductions.
IFMA Atlanta Distinguished Member Award
December 2014: For my contributions to the Facility Management Profession, IFMA, and leadership at The Westminster Schools in energy reduction.
Atlanta Better Buildings Challenge Top Performer Award
December 2014:  For my actions in helping The Westminster Schools reduce water usage by 16 percent from the Atlanta Better Buildings Challenge Benchmark year of 2010
IFMA Sheila Sheridan Award for Sustainable Facility Operation and Management September 2014:  For my actions in helping my department to achieve outstanding energy use reductions and greening the Westminster campus.
Energy Star for Westminster Campus August 2014: For our energy reduction efforts as recorded on Energy Star web site with a score of 92
FMXcellence Award December 2013: For my department's outstanding performance and contribution to the organization as a whole in sustainability, energy and cost reductions.
Achievement in FM December 2010:  For outstanding achievements as a Facility Manager at The Westminster School in significantly reducing energy use and cost along with greening the schools facility department by implementing green practices, such as green cleaning.
IFMA Star Award March 2008:  For outstanding service to the Career Services Committee and for hosting and teaching CFM study sessions.
CFM Award December 21, 2005:  For working with the chapter in mentoring CFMs