Member Spotlight – Arlene Jerome with AXIS Capital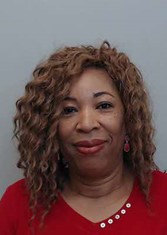 lime
origin: Trinidadian
meaning:
(v) hanging out/socialising in an informal relaxing environment, especially with friends, for example at a party, or on the beach.
(n) an event at which liming takes place, e.g. a party. A gathering of people engaged in activities associated with liming. Often qualified using an adjective e.g. big lime.
I admit, I don't have many friends from Trinidad, and none who were also raised in Boston, Massachusetts. That is exactly what we have in Regional Facilities Lead for AXIS Insurance, Arlene Jerome.  Born in Trinidad & Tobago, she and her family moved to Boston when she was ten years old. Arlene has fond memories of the community that raised her and is a firm believer that "it takes a village to raise a child." She thought me the term "liming" and shared about the laid back, fun Trinidadian culture.  Because she moved to America at such a young age, she still feels there's a lot more for her to learn about her roots and "On a Journey to Find my purpose" would be the title of her autobiography.  Arlene is a self-proclaimed workaholic, but when she does get away, her favorite place to vacation is anywhere with a beach (preferably the Caribbean), a book, and good food. She's lived in Georgia for the past eighteen years and is mother of four children ranging 20 to 30 years old.
Professionally, Arlene is not necessarily new to facilities management. Her previous role as a Regional Administrative Director incorporated facilities, administration, operations, claims, IT, Finance, and real estate.  Her current position, while 100% facilities, still also includes the other skills from experiences past.
She started her FM career because of her love for projects such as office relocations and renovations. In her previous role, she found herself doing a lot of the tasks that a facilities manager would do. So, when AXIS Capital approached her with the opportunity, she accepted the position with the understanding that she'd still be able to do what she loves; helping others grow personally and in their profession. One important thing that she's learned over the span of her career is that having people skills and being a good listener is what counts most. One of her approaches when interviewing potential employees is to "hire for attitude and train for skill." Arlene sees herself pursuing global opportunities in the future and plans to serve the underprivileged kids in her home country.
Arlene credits the successes she's had thus far to her being passionate in whatever she takes on and staying committed to doing/being better. The advice that she'd tell her younger self is "think outside the box, look beyond what's in front of you, maintain integrity, move in faith, and keep God first."  Her biggest challenge during COVID was keeping her team motivated while employees worked from home. While all US and global AXIS employees worked from home during the pandemic, she and her team were in the office every day, supporting employees domestically and globally.  This also provided a great opportunity for more training for staff. It resonated with me to hear that she sometimes sees a disconnect between senior management not always relating to the front lines employees when it comes to executing company's vison and goals. However, she says this is not the case within her department leadership.  The goal and vision is clear and everyone, from the top to front line employees, works together to achieve the goals.
Arlene joined the IFMA family as it was a pre-requisite for her starting with AXIS Insurance. She has quickly gotten involved by serving on the New Member Committee and regularly utilizes the IFMA Engage forum. The Atlanta chapter thanks you for plugging in to our organization and looks forward to being a part of your journey.
Arlene Jerome