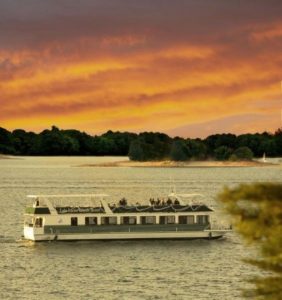 IFMA Atlanta kicked off 2017-2018 with a 5 hour boat cruise on Lake Lanier this year. It was an amazing time for our Chapter and the perfect setting for the swearing in of our new Executive Committee. Lake Lanier is located in North Georgia, offering 692 miles of shoreline, and bordering five counties.
The lake serves many important functions such as hydroelectricity, navigation, flood control, wildlife management and provides a water supply. The lake became a household name internationally in 1996 when the City of Gainesville hosted the Olympic Canoe and Kayak events at the Olympic Venue.
On this day, we chose to enjoy the fellowship and friendship of one another while cruising the beautiful waters and taking in the scenery. Onboard dinner, libations, a photo booth and music were all provided by the chapter's sponsors. In short, fun was had by all. And we were very fortunate to have several of our Chapter's Past Presidents on board with us as we "floated" into our new year.
In the past year, IFMA Atlanta's Associate Committee has changed the way events are designed and developed. We have Major Sponsors of all of our events, helping to offset costs. One of these sponsors is an FM Sponsor – they pay for 20 Facility Managers to attend the event(s) free of charge.
The main purpose for an Associate company to be a member of IFMA is to develop relationships with Facility Managers in the hopes of growing their company's business and portfolio. By allowing Facility Managers to attend events at no charge, the balance of Professionals to Associates has been fantastic. In the past, our events were beginning to be 80-90% Associate members, with only 10-20% of attendees being Professionals. With this came smaller numbers of attendees over all. When our Associates Committee made this major change last year, the results were phenomenal. Every event in 2016-2017 has sold out completely.
This year, the IFMA Atlanta Chapter will led by President Joe Pearson of Ernst & Young, LLP; Vice President Debi Gilbert of Chosen Enterprises, Inc.; VP of Communications Teresa Cox of APCO Graphics; Treasurer Lee Thomas of Graphic Packaging International; Secretary Joe Robertson of DeKalb Office; VP of Professional Development Brandi Williams of Kennesaw State University and Immediate Past President Machelle Pellegrini of State Farm.
As we now begin a new year in Atlanta, we have many exciting opportunities on the horizon. This is our 35Th Anniversary for our IFMA Atlanta Chapter, and plans are already in the works for an amazing Gala in December, which will also be a part of our Annual Awards Ceremony.
We will also have our Annual Atlanta Braves game in September at the brand new Sun Trust Stadium. Prior to the game, there will be a behind the scenes tour of the new stadium for our Professional Members, and then we will enjoy the game as a chapter in our private suite.
Our calendar for this Fiscal Year is filling up fast with Events, Tours, Educational Offerings and more. As always, the IFMA Atlanta Chapter will be represented at World Workplace in October, and we look forward to seeing you there. Be sure to come by our Hospitality Suite to say hello and pick up your IFMA Atlanta 35th Anniversary pin.