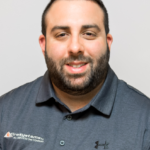 Robert "Bobby" was born and raised in the Tampa Bay, Florida area.  He grew up loving to fish with his dad.  Bobby moved to Georgia in 2011.
Bobby earned a Bachelor Degree in Music Education, one of his greatest achievements, from Florida Southern College in Lakeland, Florida.
His first job was in water removal and restoration.  Bobby's love for speaking and helping people led him into the field of sales.  He has been in the sales field for the past 12 years.  Bobby is out on the road meeting with different customers and prospects on most days, but he enjoys the ability to interact with a variety of people.  He attributes his success to his honesty and hard work, as well as treating people the way he would want to be treated.
Bobby is married with a daughter.  To de-stress after a long day or week, he loves to ride his Harley.  When not working or riding his motorcycle Bobby likes to relax watching movies.
Bobby is excited to be part of the IFMA Atlanta chapter.  When asked about the benefits IFMA has provided him he said "my involvement in the chapter has provided me the opportunity to make new professional connections."