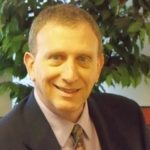 Scott is an Atlanta area native. He started out in Alpharetta, moved to the South Fulton area then back to Alpharetta. Scott earned a Bachelor of Science Degree in Education from Georgia Southwestern State University.
Scott and his wife have two grown children. Currently living on the Southside again in Senoia, which affords him the opportunity as often as possible to be a multi-modal commuter.
He will drive to the College Park Marta Station where he catches the train, rides it usually to the Five Points Station then he hops on his bicycle and rides the three or so miles to his office. He will reverse that process at the end of the day but usually rides further south to one of the stations between Five Points and College Park. Occasionally all the way back to the College Park Station.
A love for cycling, a desire to save a little on fuel, and get some exercise drives Scott to pursue a "Sustainable Lifestyle" which led him to study for and attain the Sustainability Facility Professional designation recently.  Scott enjoys being a part of the IFMA Atlanta Chapter, he has served on the previous Community Services Committee and now on the newly merged Sustainability and Outreach Committee.
Scott has worked in some form of Facilities Management for over 25 years. First in the field of municipal Parks and Recreation, responsible for maintaining athletic turf fields and their associated support structures.
Scott joined the Atlanta Mission in July of 2012 as Director of Facilities Management. He is responsible for directing and managing all facility service related aspects of all of the properties owned and operated by the Atlanta Mission, approximately 560 acres of property and 30 structures (500K SF)
The Atlanta Mission is the city's largest and longest-running provider of services to homeless men, women, and children. Since its 1938 beginnings, this Christian nonprofit ministry has grown from a small soup kitchen to a multi-facility organization serving Metro Atlanta's large homeless population. Today, the Atlanta Mission provides emergency shelter, rehab and recovery services, vocational training services, and transitional housing. Serving more than 1,000 homeless men, women, and children every day.
Interestingly, it has been said that if the Atlanta Mission were a hotel, it would be the fifth largest in Atlanta. It was recently recognized by the Atlanta Better Buildings Challenge for two buildings as a 2016 Top Performer, for water savings of 36% in one building and 27% in another.