Date(s):

Tuesday, May 4, 2021


---

Time:

10:00 am - 11:00 am

---

Location


,.

---

Topic

Building Envelope Inspection: How to Manage Risk and Reduce Liability


---

Speakers

Scott L. Weiland, PE

---

Cost

No Charge for Members, $20 for Non-Members

---

Questions?

Contact Lisa at 404-766-1632 or e-mail to lisa@ahqi.com

---
Add to Google Calendar:

Add to Outlook Calendar: iCal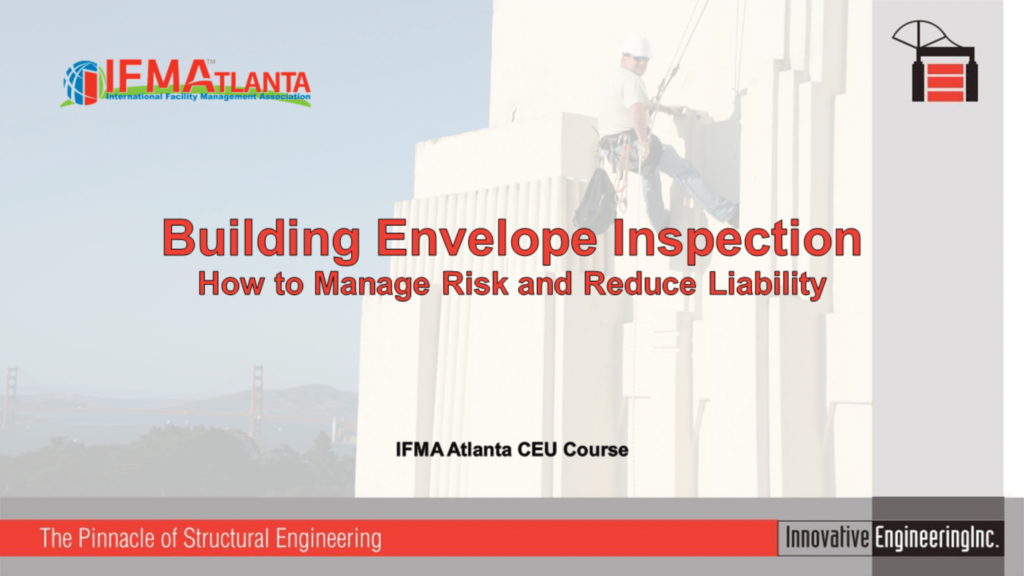 Event Date:  May 4, 2021
It is estimated that a piece of masonry falls off a building in the U.S. every 3 weeks.  Unfortunately, it has taken front page news of personal injuries, deaths, and property damage to prompt authorities to enact Building Façade ordinances. Learn how façade inspections are conducted and why the owners of some of the largest real estate portfolios in the country are proactively conducting façade inspections as a matter of risk reduction. The history of façade ordinances and why façades fail will be discussed. Background information will be presented on types of facades. Material considerations will be discussed, including types of materials used in facade construction and how environmental factors affect these materials. A dissection of a façade inspection will provide an understanding of how to conduct inspections and highlight common pitfalls. Reporting requirements will be discussed and case studies used to provide examples of common issues and how to choose corrective actions.  Learn how a comprehensive façade inspection is conducted that covers the entire building envelope including waterproofing and the roof utilizing the latest technology.
This is an FM Event.
This is a virtual event.  You will be sent the link once your registration has been processed.
Learning Objective 1
Understand why you should be conducting facade inspections of your buildings.
Learning Objective 2
Understand what causes facade deterioration and failures and what the latest techniques are being used to detect failures before they occur.
Learning Objective 3
Understand what you should expect in an inspection report.
Speaker:  Scott L. Weiland, PE
Bio: Scott Weiland PE is a Business Partner of IFMA Atlanta in addition to being a member of other real estate associations. He is a graduate of the University of Michigan, a registered engineer in 32 states, and is BESI Building Envelope Certified. Scott has 40 years' experience as a structural engineer and has specialized in performing building envelope and facade inspections for over a decade. His façade expertise has been the subject of articles in publications such as BOMA Insights, STRUCTURE, and Georgia Engineer magazines. Scott is a frequent presenter on this topic for professional organizations and is also an AIA approved CES course provider. He is president of Innovative Engineering Inc. (IEI) based in Atlanta; however his firm does work throughout the US and its territories. His passion is to educate professionals on how they can protect the public, minimize risk and liability, and save money by maintaining their building facades.
Bookings
Bookings are closed for this event.