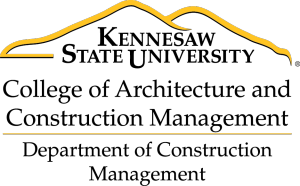 Posted below is a thank you note from Dr. Khalid Siddiqi, Professor and Chairman of the Construction Management Department at Kennesaw State University.
Dear IFMA Atlanta:
IFMA scholarships play a tremendous role in the success of those students who receive these scholarships.
Please click here to see the sentiments in the attached documents from IFMA Scholarship recipients. I am sure your membership will be pleased to hear that their contributions are changing the lives of individuals.
The Construction Management Department and the faculty are grateful to IFMA Atlanta Chapter for their continued support by giving scholarships to students at Kennesaw State University. –Khalid
Khalid Siddiqi
Professor and Chairman
Construction Management Department
College of Architecture and Construction Management
Marietta Campus: Mail Code 9040
Kennesaw State University
1100 South Marietta Parkway
Marietta, GA 30060
Phone: (470) 578-4215
FAX: (470) 578-9245
New Email: ksiddiqi@kennesaw.edu