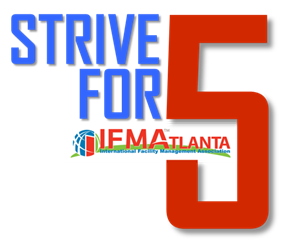 Strive for Five
Getting involved with IFMA Atlanta does not need to take a lot of your time, just a little effort.
We challenge you to get involved, to take advantage of the multitude of opportunities our chapter offers each year to learn, connect, and advance.
Simply complete five items on the Strive for Five activities list
Email what activities you have completed to striveforfive@ifmaatlanta.org.
Earn a cool ribbon and an entry into our Strive for Five $100 prize drawing at the end of the program.
Repeat
Strive for Five Activities List:
Start a conversation with a new chapter member
Attend one more monthly chapter meeting, tour or special event than last year
Volunteer for a community outreach program
Post a message on our Facebook page about a recent meeting or event
Write an article for the newsletter
Become a Mentor
Respond to an IFMA survey
Bring a guest to a meeting
Attend a committee meeting
Sponsor an event or activity
Volunteer
Post on the website Blog
Post a tweet
Start a discussion on LinkedIn
To get started click on the link and fill out the Strive for Five Entry Form!