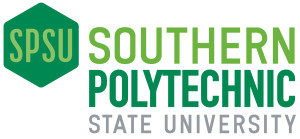 The construction and engineering industry present an endless array of risks to be managed, averted or insured, with some risks standing out more than others. This past September, SPSU's Construction Management Department in collaboration with Mr. Nicholas "Nick" Papleacos, SPSU Foundation Board member and attorney-at-law, Chamberlain, Hrdlicka, White, Williams & Martin, co-sponsored the Engineering News-Record (ENR) second annual Risk & Compliance Summit: "New Liability: How to Limit the Downside." Top risk experts gathered to present strategies and models for identifying and managing a company's risks in an environment where the most costly and unpredictable risks are the ones that are critical and in need of management. The summit was held at the Georgia Tech Global Learning Center in Atlanta, Ga.
ENR is a weekly magazine that provides news, analysis, data and opinion for the construction industry worldwide, covering the construction industry's financial, legal, regulatory, safety, environmental, management, corporate and labor issues.
SPSU students were able to network with industry professionals and observe discussions about legal and financial disasters in construction, standards in architectural and engineering projects and risks involved in pre-fab projects to name a few. It was also an opportunity for students to develop internship and career opportunities.
Fluor-Baxter Establish an Endowment for Construction Management Students
In late July, Department of Construction Management Chair and Professor Dr. Khalid Siddiqi was approached by employees of Fluor while they were working on Baxter's state-of-the-art manufacturing facility that is currently under construction in Covington, Georgia. Fluor wanted to organize a competition for SPSU students relating to the new Baxter plant, which is one of a kind in terms of size and manufacturing ability. This led to the birth of the Fluor-Baxter Competition.
Baxter is a global healthcare company with expertise in medical devices, pharmaceuticals and biotechnology. After being invited to tour the facility, students traveled with Dr. Siddiqi and other construction management faculty on Sept. 10 to participate in a mock pre-bid conference that was held at the construction site.
The Fluor organization had the benefit of observing the students in action as the construction management majors participated in the competitions, showing their abilities to respond to the Request for Proposal and demonstrate skills in presentations. The students were also required to get bids from different subcontractors included in the scope of work.
Three teams of students competed on campus with members of Fluor serving as judges and awarding cash prizes. The winning team of students included Richard Ragan (team leader), Luke Hunter, Micahl Williams and Taha Addow. Afterward, Fluor agreed to establish an endowment for SPSU construction management students.
Fluor also held a career fair for SPSU construction management students and representatives from the company are came back to campus for recruiting purposes in early November.
Fluor is a Fortune 500 company that delivers engineering, procurement, construction, maintenance (EPCM) and project management to governments and clients in diverse industries around the world. It is also one of the firms building the 100-acre campus, which includes 1.2 million square feet of building space.
Through Siddiqi, construction management at SPSU has become well known because of relationships he has built within the industry. Construction management has attracted the attention of worldwide industry leaders that are interested in graduates of the university's construction management program.

SPSU's Construction Industry Advisory Board Hosted Spring 2014 Skeet Shoot
Dr. Khalid Siddiqi, Chair of the CM Department lead the SPSU Team that participated in the third annual skeet shoot held by SPSU's Construction Industry Advisory Board.
Cherri Watson, Director Education, Safety and Workforce Development AGC of Georgia, was the Chair of the CIAB Outreach Committee who organized the event on behalf of the CM Department. The Organization Committee for the event consisted of Pat Dunwoody (Executive VP-Education, ABC Georgia), Chuck Little (Education Director, Atlanta Electrical Contractors Association), and David Ellis (Executive Vice President, Atlanta Home Builders Association).
The event was held at Etowah Valley Sporting Clays, located in the Hills of Dawsonville, Georgia on Friday, April 25th, from 10 am to 3:30 pm. Three station sponsors included Batson-Cook, Brooks Berry Haynie & Associates, and White Electrical. Lunch for the occasion was sponsored by AGC Young Leadership Program. Ken Barnett, Chair from Winkle, and Roy Beeson from MBP and past Chair of the Industry Advisory Board, also participated in the event. A number of alumni including Nick Morrow, Andy Okelly and Carl Frinzi were also in attendance. Additional teams included members from Hall Booth Smith, United Electric, White Electrical Atlanta, and Brooks Berry Haynie & Associates. This event was the largest of its kind since the Outreach Committee of the CIAB started organizing the skeet shoot.
Prizes and trophies were awarded to the best shooter of the day and first and second best scoring teams during the event. Organizations who fielded teams included Maxair, Moss and Associates, Archer Western, Turner, Hogan, Balfour Beatty, Inglett and Stubbs, Batson-Cook, and CW Matthews.