Cherri Watson Organizes Successful Fundraiser Held By SPSU's Construction Industry Advisory Board
On Friday, April 25, 2014, industry professionals joined SPSU Construction Management Department faculty, alumni and students for their annual Sporting Clays Fundraiser. The event was held at Etowah Valley Sporting Clays Course in the hills of Dawsonville, Georgia from 10:00 a.m. until 3:30 p.m. that day.
Cherri Watson, AGC Georgia's Director of Safety, Education and Workforce Development, served as the Chair of the SPSU Construction Industry Advisory Board's Outreach Committee and spearheaded the coordination for the event. Additional committee members included Pat Dunwoody, Executive VP of Education-ABC Georgia, Chuck Little, Education Director-Atlanta Electrical Contractors Association, and David Ellis, Executive Vice President-Atlanta Home Builders Association.
Since its inception in 2012, this event had the most participation and raised over $18,000 for the program.
Three Station Sponsors included Batson-Cook, Brooks Berry Haynie & Associates, and White Electrical. Lunch for the occasion was sponsored by AGC Young Leadership Program.
The following construction organizations and Construction Industry Advisory Board member firms supported the skeet shoot:
Balfour Beatty
Hall Booth Smith
Hogan Construction Group, LLC
Inglett & Stubbs
MBP
Turner Construction Company
United Electric
Van Winkle Construction
White Electrical Atlanta
Archer Western
Batson-Cook
CW Matthews
Maxair
Turner
In addition to the board members there were teams fielded by Brooks Berry Haynie and Associates, Moss and Associates, Hall Booth Smith (Attorneys at Law), Corporate Solutions Swiss Re, and SPSU's Construction Management Department.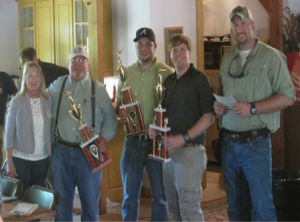 Pictured above from left to right: Cherri Watson – AGC Georgia, Martin Madert – Inglett & Stubbs, Patrick Lenz – Inglett & Stubbs, Josh Wheeler – Inglett & Stubbs, (Joe Wheeler-not pictured) and Ken Barnett – SPSU Construction Management Chair Industry Advisory Board.
Prizes and trophies were awarded to the best shooter of the day and first and second best scoring teams during the event. This event was the largest of its kind since the Outreach Committee of the CIAB started organizing the Skeet Shoot.
Many thanks to Cherri Watson, the committee and to participant construction industry organizations and business establishments who made the event a success!
Retired CM Professor Continues to Provide Support as an Active Educational Philanthropist
Dr. John Mench, retired Construction Management faculty member, continues to give back to SPSU and its students.  Dr. Mench, who still teaches part-time, recently funded 50 percent of an endowed scholarship established as The Toy-Mench Endowed Scholarship. In addition to bearing Dr. Mench's name, the scholarship also pays tribute to Dr. G. Arlan Toy, former CM Department Chair.
Two scholarships will be awarded annually from funds generated by the endowment:
The first will be awarded to a full-time student pursuing a BS or MS degree in Construction Management. The recipient must also have completed at least one course in either the Specialty or Facility Management concentration and be enrolled in another course for either of the two concentrations named. A minimum GPA of 2.8 is required.
The second scholarship will be awarded to a full-time student pursuing a BS or MS degree in Construction Management who has completed at least four Construction Management courses and has a minimum overall GPA of 3.0.
Outstanding Faculty of the Year
Dr. Hussein Abaza, Associate Professor-Construction Management, was recently selected by the peers as one of three Outstanding Faculty of the Year at SPSU. Dr. Abaza, highly respected by students and peers alike, received this award at the 2014 Service Awards ceremony on Wednesday, April 23, 2014.
Congratulations, Dr. Abaza! Well deserved!
Dean Richard Cole to Serve as Interim V.P. of Academic Affairs
Professor Richard Cole, Dean of the School of Architecture and Construction Management, has been appointed as interim Vice-President of Academic Affairs (VPAA) while the consolidation of SPSU and KSU moves forward. Dean Cole will take on the duties of Dr. Zvi Szafran, who left this month to become president of the State University of New York-Canton. Professor Cole shall continue his responsibilities as Dean in addition to serving as interim VPAA.
Dean Cole, a licensed architect, joined SPSU (then Southern Technical Institute) as a full-time faculty member in 1987 and has taught second, third, fourth, and fifth-year Design Studio courses since that time. He served as an adjunct faculty member prior to 1987. The student Government Association chose him as the Outstanding Faculty member of the year for the 1989-90 academic year, and again for 2012-13. The SPSU faculty awarded him the Outstanding Faculty Award in 1989, and he served as moderator of the Faculty Senate during the 1989-90 academic year.  Dean Cole holds a Master of Architecture from Georgia Tech and a certificate from the National Council of Architectural Boards (NCARB). He is a member of the American Institute of Architects (AIA) and sits on the Georgia Board of the American Institute of Architects. Dean Cole has maintained an architectural consulting practice in the area of commercial design since 1989.