Mike Ghinga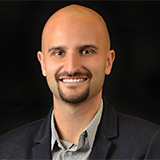 Mike is a rare metro Atlanta native. Born and raised in Norcross, he has lived in GA his entire life. Professionally, he is an account manager at Mallory and Evans Service Company, and works directly with Facilities Managers, Chief Engineers and Property Managers. His mission is to use his talents and abilities to create a loving, safe, happy, and prosperous life for his family, and maintain a positive attitude and sense of humor in everything he does. He looks for opportunities to help other driven professionals in a win-win manner.
In his professional role, he is responsible for understanding the big picture needs of the FM and then focusing on the facility's HVAC systems. He has been in the industry for 7 years now and has advanced from a technician's apprentice all the way to his current role as account manager. Mike has an associate's degree in Air Conditioning Technology from Gwinnett Technical Institute. He hopes to continue to grow his network, build more relationships, and position himself to have a direct impact on FM's goals.
Since joining IFMA and the Atlanta chapter in 2017, he has had a "service first" mentality. By plugging in to several committees and even chairing the business partner committee this past years, he has been able to invest his time and energy into bettering our local chapter. Mike is excited about serving the Atlanta chapter this year as Treasurer and looks forward to another fun and successful year with our organization.