Machelle Clarke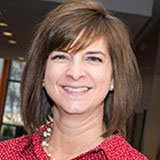 Machelle Clarke is a Certified Facility Manager (CFM), Administrative Services Technical Services Operations Supervisor and Transit Coordinator for State Farm Insurance. She has worked for State Farm Insurance for 32 plus years and is currently a serving as a Team Lead to stand up approximately 1.9 million square feet of office space in Park Center for the State Farm – Atlanta Hub. She also recently had the opportunity to stand up a new team for State Farm's Technical Services Operations serving the Enterprise structure for State Farm.
Machelle graduated from Georgia State University in 1996 with a Bachelor of Arts degree in Philosophy. In addition to her CFM, she holds the following insurance designations; Associate in Insurance Services and Associate in General Insurance.
Machelle has been an active member of the International Facilities Management Association (IFMA) Atlanta Chapter since 2009. She has served as a Past President and Chaired Atlanta Workplace numerous time. She has also served in various other Board and Chair positions for the Atlanta Chapter as well. She was a recipient of the 2015 Martha C Osborne CFM Award and the 2017 Distinguished Member Award.
Machelle was selected by the Association of Commuter Transportation as the 2017 National Transportation Coordinator of the year. She is actively involved in assisting State Farm employees with the use of alternative transportation.
Machelle has three children ages 19 (Conner) and 15 (Rachel and Tyler). In her spare time, you may find her at a ball field in Florida or Georgia, gardening in her yard or reading a good book on the beach.