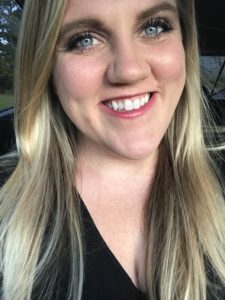 By: Debi Gilbert, Chosen Janitorial
This month the Member Spotlight is shining on Associate Member Sarah K. Francis, Commercial Account Manager for Team Pest USA.
Sarah was born in Memphis, Tennessee and grew up in the small town of Olive Branch, Mississippi. "It was a very small farming town. I grew up on a small farm with my parents and grandparents, and there was an Angus farm next door. My grandparents and parents went to the same school that I attended. Although it was very rural, I loved that I could go 15 minutes to the South and be playing in the mud on four-wheelers…or go 20 minutes to the North and be walking Beale Street along the river, listening to great music."
The baby of four, with two older sisters and one older brother, Sarah shared that her place in the family gave her a level of "self-awareness".
"My sisters are 12 and 10 years older than me. I grew up having a total of 3 mothers. However, I gained insight into 'what to do / what not to do' as I watched my older siblings go through their experiences. These lessons are lessons I still apply to my life today – insight and guidance for how I want to make decisions that are going to impact my life long goals. I am a very giving person, but admittedly I am selfish with my time. Growing up, I got stuck doing what everyone else wanted to do. The baby always ended up having to go along with what the rest chose."
Sarah shared with me that she is still friends with people she was in Daycare with from the age of 6 weeks – and her two best friends she has known since kindergarten. "It's incredible to go back home, now that I'm working in the Commercial Real Estate Industry, and have a completely different level of appreciation for the growth. Olive Branch is no longer the small farm town it once was."
When Sarah headed to college, it was to Northwest Community College, in another small town in Mississippi, Senatobia. "It was almost like 13th grade", she laughingly shared. While at Northwest, Sarah studied Psychology and Sociology.
In December of 2009, Sarah's company transferred her to Atlanta to launch their inside sales department. "I love living in Atlanta. Even though most people complain about the traffic, but I love just cruising around. I look at it as an opportunity to get lost and find my next new favorite restaurant, park, date night, etc. You never know who you may meet, and from what walk of life they may come from. I love the diversity and culture that Atlanta brings to my life."
Sarah recently married and has two adopted children, ages 14 and 11. As a personal friend of Sarah's, I can share here that she is an amazing mother to her children and devotes that "selfish time" mentioned above, unselfishly to her family.
Sarah began working in the Commercial Real Estate arena in June of 2015. When I asked her what she enjoys about working for Team Pest USA she shared this with me. "Their passion for their people and their genuine pledge to help others. Not only do they strive to be the best, they also stand behind what they say and do."
Team Pest USA is a locally owned, family run company. "They put a lot of emphasis on their employees. Not only in 'taking care of them', but also empowering them to be able to take care of their families. I truly enjoy the leadership of the company. They have had a tremendous influence in helping me achieve my own growth, as well as setting goals and achieving them."
Sarah joined IFMA Atlanta in September 2016. She is an active member serving on both the Associates and Communications Committees. "The most satisfying part of serving on the Associates Committee is being a part of the team planning our events. Everybody on the committee works hard to make these events come to fruition. We can't just wake up on Thursday and decide we want to put on a Lake Lanier Boat Cruise on Friday and expect it to happen. There is a lot of hard work that goes into these events, and the reward is to see everyone who attends truly enjoying themselves."
When I asked Sarah what her favorite part of being an IFMA Atlanta Chapter member is, she shared "By far it is the people. And the experiences. I feel privileged to be able to get behind the scenes of different areas that would never have happened in my everyday life. And these experiences teach me more and help me to be a better resource for others."
The next three questions are always some of the most entertaining, as they give us insight into "the person".
"What is your Dream Job?"
"I want to explore the world as a professional traveler."
"Okay, that being said, what is your Dream Vacation?"
"I have three on my bucket list. I want to go somewhere and witness the Northern Lights, I want to lay on the beach in Fiji, and I want to go 'Down Under' to Australia."
"Share one thing with me that most people would not know about you."
"In general, I'm a minimalist. I put a very high emphasis on my quality of life. I have a firm belief in the fact that things and material possessions do not bring one happiness. Relationships and experiences are what I find fulfillment in. When I am 90 years old I want to say 'I did', not 'I wish I would have'. You cannot make that happen if you have a house full of antique furniture. It's going to Fiji!"
Last question was "If you were at a Chapter Event and I handed you the microphone, what would your message be to our members?"
"I am a firm believer in supporting those who support you. The more we utilize one another for resources, through networking and referrals, the stronger we all can be. I encourage you to get involved and give back."