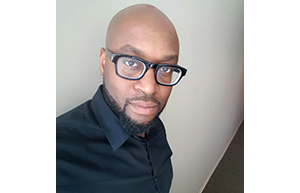 Marvin Richardson is originally from Brooklyn New York and had an interest in Architecture and building since the 7th grade thru high school.  He has a multifaceted background as a professionally trained dance artist.  Along with his performance background he's experienced with building stage sets and managing the logistics of touring.  Considering how important the built environment is in the arts,  this transferred to his interest in facilities management.  He's a currently a senior at Kennesaw State University majoring in Construction Management with a concentration in Facilities management.  In addition he will begin internship with The Whiting-Turner Contracting Company this summer.  Upon graduation this December Marvin is excited to continue in the construction industry and see where it will take him.
What motivated you to enter your career?
It started with my interest in Architecture but soon moved to how the built environment is utilized and maintained.
How long have you been in your field?
I'm a graduating senior at Kennesaw State University majoring in Construction Management with a concentration on Facilities management
What other professional organizations are you involved in?
I'm part of the IFMA Atlanta Chapter
Tell us something that not many people may know about you?
I'm a professionally trained dancer that realized how important dedicated and cared for spaces really affect
What was your first job? Craziest job?   Or crazy on the job experience ?/
The craziest job I ever had was renovating an old mail sorting building into a theater.  We were 18 hour days and did multiple runs to Home Depot to finish in 3 weeks
What is furthest place you have ever visited?
Johannesburg South Africa
How did you end up in facility management or the position that you are in?
I chose to go into facilities partly because of caring for a theater.  From the renovation of an empty space to a theater I placed a lot of care after opening day to ensure the building served the people well.
What is your personal secret to success or personal motto?
My personal motto is to work hard, play hard and build lasting relationships
What has been the most important aspect that has contributed to your success?
Dedication until the job or task is complete.  No matter the outcome I strive to finish strong
What has been the greatest challenge you've experienced in your career?
My greatest challenge is managing a full-time job while attending college full-time and to make this more interesting I drive for Uber on the weekend.
What is your biggest pet peeve at your job?
Lack of communication among team members to complete or correct a task.
How do you de-stress?
I ride my bike in the city, or choreograph a dance
How has your Atlanta Chapter IFMA membership benefited you and/or your career?
It has provided great resources and friendships I believe will last a long time
What is your favorite Hobby?
Building Legos with my sons
What is your business philosophy? Favorite quote?
"People don't care how much you know, until they know how much you care. John C Maxwell
Have you read any good books or seen any good movies lately? What did you like about it?
I recently saw Captain America – The Winter Soldier – What I like about it is the 2 friend can fight each without killing each other but still maintain a friendship beyond disagreement.
What do you find the most challenging at your job?
What's most challenging about my current job is being patient with old system while a better improved one goes thru the scrutiny before rolling it out.
If given a chance, who would you like to be for a day?
John C. Maxwell he's a modern day legend in leadership and building lasting legacy
What aspect of your role do you enjoy the most?
Connecting with people to help them find the best solution tailor-made for their circumstances
What does a typical day look like for you?
Wake up go to work, then KSU for class, go home and do Uber or
What is your greatest personal achievement?
Presently I'd say managing work, school and driving for uber on the weekends to support my self and 2 sons.