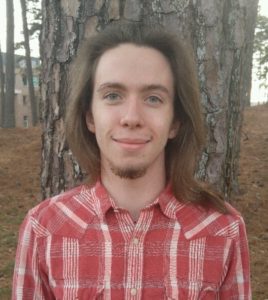 IFMA Georgia Spotlight
Devin Shackelford- Student at Kennesaw State University, Construction Management Major.
Written by Henri Brickey –  Whitco Roofing.
At 21 years of age, Devin Shackelford already has a plan to make the world a better place someday – a common trait shared by many college-aged idealists.
But unlike many of his peers, Devin's altruistic plan is based upon entering a profession that many of his classmates typically overlook.
"This is a career where I will actually have the ability to make a positive impact on the world," said Shackelford, a junior majoring in Construction/Facilities Management at Kennesaw State University.
Making a positive impact on the world – in construction? The notion may have seemed far-fetched only a couple decades ago, but Devin's plan makes perfect sense today.
In particular, Devin says, he is interested in how building design and management can affect the physical and mental well being of the occupants – a concept adopted in the Well Building Standard, which is gaining popularity as a new guideline to improve employee morale and health in the workplace.
"Of all the core competencies of facility management, the human factors interest me most."
So how does a high school student from Dunwoody, who played saxophone in the marching band and orchestra, end up swinging a hammer and laying bricks his senior year in high school and eventually  pursuing a career in construction management with the intention of making the world a better place?
First, Devin had a bit of a wake-up call.
"I had a realization that I wasn't going to pursue music professionally," said Devin, who still occasionally picks up the tenor saxophone he played throughout high school.
Heading into his senior year of high school, the reality of life after graduation began to creep into Devin's mind. It was about the same time that he learned about a program at nearby Cross Keys High School that taught masonry and carpentry.
"I knew I was good with my hands, so I thought I'd give it a shot."
But not everyone was as excited as Devin was about his new-found career consideration.
"There's still a negative stigma behind it," Devin said, referring to response he got from his fellow students at Dunwoody High when he shared his plans of considering the construction industry.  "Unfortunately, you only typically see programs like that in schools with low graduation rates."
And Devin had other reasons for wanting to try the vocational program at Cross Keys.
"I decided I wanted to see a different culture and different environment," he said.
So for two periods each day, Devin travelled to Cross Keys High School in Atlanta. It was a short drive geographically from his home school in Dunwoody, but the two schools' environments were miles apart once on campus.
"The (racial) demographic from Dunwoody High was an even mixture and at Cross Keys it was like 90 percent Hispanic."
Once he enrolled in the program at Cross Keys, Devin began learning the basics of construction from the ground up – starting with industry basics like safety and the importance of personal protective equipment (PPE). From there, he learned everything from hammering a nail to operating power tools.
As time went on, Devin joined SkillsUSA and began entering competitions where high school students were graded on simulated OSHA jobsite assessments. Devin's team went on the win at the Georgia state level and then travelled to Kansas City to compete at the SkillsUSA national championship, where his team took 3nd place.  After winning the competition, one of his teachers at Cross Keys told Devin that he had a knack for the management side of construction and advised him to consider pursuing a career in construction management.
When Devin learned about the construction management program at Southern Polytechnic Institute – now Kennesaw State University – it seemed like a perfect next-step in his career progression.
"I could appreciate the work that went into a construction project, and I wanted to keep looking into the bigger picture."
Despite the merger between Southern Poly and Kennesaw State, Devin says life at the former Southern Poly campus in Marietta – where he still takes most his classes – is much like it was before.
"It's still the smaller campus feel which I like….. the smaller class sizes and hands on interaction with professors."
And it was a professor who told Devin about IFMA Atlanta, which he joined last December after"being reminded constantly of its existence" by his professors.
"IFMA is a veritable treasure trove of knowledge to be found," Devin said recently after attending an IFMA information session on sustainable building practices.
Devin predicts that the emphasis on more sustainable and healthy work environments will only continue to grow as generational shifts occur in the workplace.
"It's pretty much the wave of the future and you might as well jump on board."
Upon graduation from Kennesaw State University, Devin hopes to pursue his master's degree in facilities management at Georgia Tech.  In the future, maybe 10 years down the road, Devin says he would like to be working as a facility manager at a company that promotes a sustainable vision – possibly involving green building.