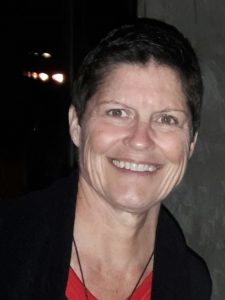 Patti was born in Chicago and moved to North Carolina in her Elementary School years. The year she was entering the 8th grade, Patti and her family moved to Gulf Breeze, Florida. As the "interviewer" here, I will add a side-note that this is when I personally met Patti. We attended the next 5 years of school together, and I remember Patti as a very accomplished player on our Girl's Basketball Team at Gulf Breeze High School.
After high school Patti joined the U.S. Navy and served our country for seven years as an Intelligence Analyst. She shared with me that initially her job required that she be able to read Morse Code before moving into the Technical Analysis position. Patti reached the rank of Enlisted Petty Officer 2nd Class while serving in the Navy.
Upon completion of her military career, Patti moved to Atlanta and attended the University of West Georgia, earning her Masters in Gerontology. During this time, Patti was working in the Facilities Management world, and felt she could put her services to work in the assisted living facilities space. While attending college, she was the manager of custodial services at West Georgia. Having previously worked in Facilities Management, she felt she had the inside track for the position, and so did they! This position showed her some of the changes she felt needed to be made, which led to her securing a position at Georgia Tech for 5 years and then into her current role at Georgia State.
When Patti got to Georgia State, the VP of Facilities Management wanted her to take on Interim Director of Sustainability in addition to being the Director of Building Services. This led Patti back to school where she earned her SFP first, then her CFM – both at Georgia State. Patti recently also graduated from the University of California, Irvine with a Certificate in Facilities Management. She shared with me that this Certificate was even more in depth than the CFM – more hands on with things she did not previously have familiarity with – Design/Construction/Blue Prints/HVAC.
Patti originally joined IFMA in 2010. When I asked what led her to join our organization she shared that "The FMP that IFMA offers, they are the only organization that offers this course. I knew that I needed this as I was taking over an area that I was not familiar with and that the FMP would help me".
"What is the best part of belonging to IFMA?"
"The accessibility of training and the certificate programs. Facilities changes so much – you have to do the CEU's just to keep up!"
I asked Patti to share one thing with our membership that no one would know about her. "I learned how to drive an 18 wheeler. I had to parallel park with a 53 foot trailer behind it! I was in my 30's and decided it was something I wanted to see if I could do." After 3 months of driving for a trucking company, Patti found that driving "over the road" was not her destiny.
"So what is that dream job?"  "I would like to be the VP of Facilities Management either in Atlanta or California. Of course, living in California is too expensive – but still a dream."
"And your dream vacation?" "Hawaii. I've never been, but I really would love to go. My favorite vacation destinations thus far have been San Francisco, Santa Monica…California, lol. I would also love to see Yellowstone."
"Do you have hobbies?"  "I love to work in the yard, love working outside. I also like to go to concerts and plays. And my favorite band to see live would be Michelle Malone or Band Over the Rhine."
"Last question. If you could stand in front of the room at one of our chapter meetings and speak to IFMA Atlanta, what would your message be?"
"Everyone should always be a lifelong learner. Never stop learning. You have to – it's the only way to advance your career. Which is one of the reasons I really like IFMA.
Written by Debi Gilbert, Chosen Janitorial