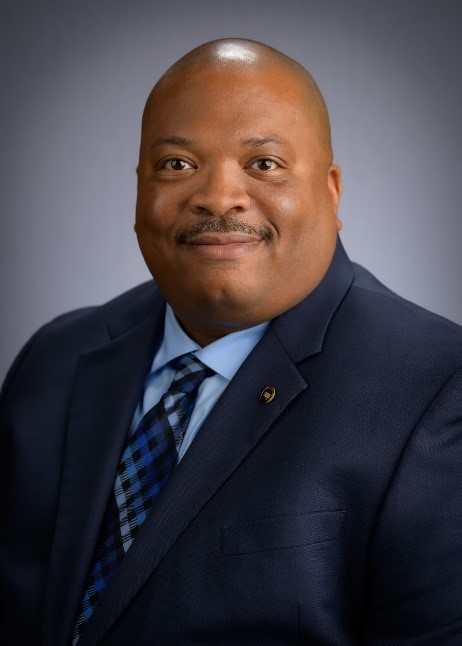 It shocked me when I learned that long-time IFMA member Lyle D Gladney had not yet been featured in our newsletter. Lyle has served for our chapter since 2005 and is currently on the ballot to become our incoming Vice President. He was born in Chicago, but still considers himself to be a southerner; as his family moved back to their hometown of Kosciusko, Mississippi when he was three years old. His fondest memories of childhood are dinners at home, especially Sundays, where his entire family would sit around the dining room table. I also learned that Kosciusko is the birthplace of Oprah Winfrey, making her the second most famous person from there, next to Mr. Gladney. While some prefer the beach or extravagant getaways, Lyle's favorite place to vacation is his family hometown, due to the slow paced, simpler life there. He enjoys listening to gospel music and reading in his spare time. His top three book recommendations are, The Bible, "The Seven Habits of Highly Effective People" by Stephen R Covey and "The 4 disciplines of execution" by Chris McChesney/Jim Huling/Sean Covey. He cites marrying his wife, Allison, as his greatest personal achievement and they are proud parents of two children Deyanna (15) and Lyle Justus. (12).
Professionally, Lyle chose to obtain a Mechanical Engineering degree because of the versatility. He started his Facilities Management journey working as a Technical Support Lead for a MMantec Inc, who held a major contract with Federal Express. He went on to become the Shift Lead, Site Lead and ultimately Customer Business Manager for Johnson Controls Inc. with assignments that included RiverEdge Summit, Solvay Specialty Polymers, United States Criminal Investigation Laboratory and Fulton County Jail. Currently, Lyle is the Facilities Director for Aramark at the Emory Proton Therapy Center in Midtown. He has the responsibility in the plant and building operations as well as Environmental services, security, and valet. He enjoys this role mainly, because of the great people he works with and the overall cause of the center, which is "to ease the burden of cancer".
In addition to IFMA, Lyle is also an active member in ASHRAE (American Society of Heating Refrigeration and Air conditioning Engineers and NSBE (The National Society of Black Engineers)
Lyle's "secret to success" is his faith, listening more, helping others, and surrounding himself with good people.  The people are what he enjoys most about IFMA, where he's built long lasting relationships.   Instead of summarizing the rest of my and Lyle's conversation, I think his own words will say it best. See the remainder Q and A below. The IFMA Atlanta chapter thanks you for all your service and dedication. We are proud to call you family and will continue to support you in any manner possible.
MG: What does a typical day look like for you?
LG: Safety first- we are required to complete a wellness attestation as well as temperature check prior to beginning work. A typical day then begins with a walk through of the facility- checking in with various stakeholders along the way. I then look at my schedule for the day as well as deliverables. In between meetings, I catch up on action items, often following up with employees or vendors.  In the afternoon I have 2 standing huddles (short meetings to discuss the events of the day and plans for tomorrow)- 1 with Emory's leadership team and 1 with my team.
MG: What has changed for you from COVID?
LG: From a workplace perspective, the major change has been all the safety put into place – the wellness questions, the temperature checks, the increase usage of PPE, the wait times in between cleaning certain areas. From an outside of work perspective, I have gotten busier-since everyone was having virtual meetings, I have had more and more.
MG: What's next for you professionally?
LG: Well, I'm only a year in with Aramark, so excited to see how I can continue to grow in this position. Next, I'm interested in working in Aramark's other lines of business.
MG: What would you do professionally, if not FM?
LG: If not FM, design, research & development or being an educator.
MG: What would the older you tell the younger you?
LG: Save more money, read more books.
MG: If you were author of your own biography; what would the title be?
LG: My Journey, My Story.
Lyle Gladney