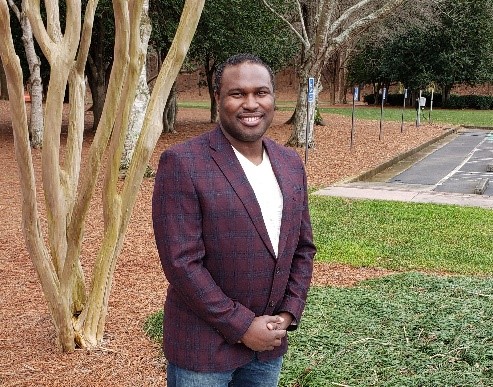 I interviewed LaLarry Anderson on the last week of crazy 2020 and getting to know him was a pleasurable way to end the year. It didn't take long to learn that he is competitive, loves to travel, and is passionate about his family. Before getting in to his professional life, let's learn more about LaLarry the person. His father was in the military, which meant his family moved around almost every three years. From elementary to high school, LaLarry had attended almost 15 schools and lived across the U.S. from New Orleans to Charleston to Florida to Hawaii. While traveling so often posed a problem in terms of keeping friendships, technology has allowed him to stay in touch with friends from his childhood to this day. Traveling did help him experience different cultures and an appreciation for others that are not like himself. He says that Hawaii was his favorite place to live thus far, due partially to the friendly people that welcomed him, despite not being from there. He now lives with his husband of 5 years and their three dogs in Atlanta. LaLarry is an avid tennis fan and if not for COVID, he was slated to travel to Australia last year to see the Australian Open. Playing tennis is also his favorite spare time activity and if he could be anyone for a day, Andre Agassi or Pete Sampras where the immediate people that came to mind. When asked of his favorite place to travel, simply "anywhere with a beach" was his answer.
LaLarry is a poster child for showing that the path to Facilities Management is almost always unique and anything but cookie-cutter. He started going to school for Architecture, at what was then Southern Polytechnic State University in Marietta, GA. When his school changed location of their program, he decided to put his education on hold and began working as a temp-to-hire for a temp agency dealing with clients. The 3rd party management company, Mace Macro, that managed his building at the time was looking to hire facilities assistants to manage the facility. LaLarry jumped to the opportunity and with that move started his FM career 10 years ago. From there, he went on to manage his own facilities to his current role as Facilities Operations Manager for North America with Verint. He cites his obtaining his CFM certification as one of his greatest personal achievements. Being in the industry for 10 years without completing any higher education is proof that Facilities Management welcomes the unconventional. His secret to success is "speaking up, being outgoing, and accepting challenges". Going forward, LaLarry plans to add to his already impressive list of certifications by obtaining his SFP (Sustainable Facilities Professional) and aspires to one day manage facilities on a global level. He plans to obtain a degree in Construction with a focus on Facilities or International Business.
Like most of us, the pandemic has impacted his work life as well. Having less personal interaction, more video calls, and decreased travel is the new normal for now. Lately, a typical day for LaLarry is spent almost entirely on WebEx/Teams. Due to his companies' international footprint, it's not uncommon for him to start meetings at 6am and continue being online until 8pm in order to coordinate with people in different time zones.
Currently, LaLarry volunteers at an animal clinic, which has caused his love for animals to grow and his favorite job after high school was working at Barnie's Coffee & Tea Co in Duluth, GA. This was his first job ever and first time experiencing a promotion as shift lead after his 18th birthday. This was a jump start to great things to come. If he was not working in Facilities Management, he states that he'd be a veterinarian or own a coffee shop. Be sure to welcome LaLarry at an upcoming site tour or convention. He has been serving on the ADP committee for a few years now and is happy to be involved in our great group.