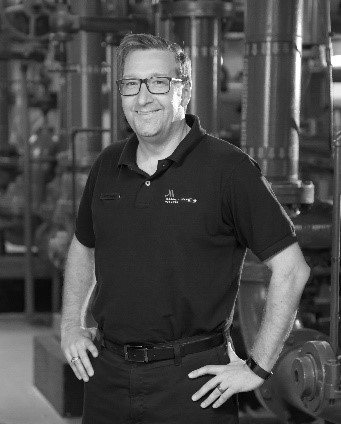 Walking in and admiring Atlanta's largest hotel (1,663 rooms), I was pleasantly surprised to meet such a humble "man in charge". Although Dave Mason's current role as Director of Engineering at The Atlanta Marriott Marquis, along with his decorated past in Facilities Management, is plenty to brag about; he does not allow his accomplishments to keep him from staying grounded. Dave is a US Army Veteran who was born in Melrose, Massachusetts, but grew up in Spokane, Washington. Through his military experience, he was able to travel the world and sites the Resort area of Bibione in Northern Italy as his favorite place to travel. Currently, he lives in a North Atlanta suburb with his wife and two children (age 10 and 14) and plans to set roots in Georgia so that they can maintain some stability with school and friends. In his spare time, Dave loves to spend time with his kids or reading. One of his favorite vacations was traveling with them to the Atlantis Resort in Paradise Island, Bahamas. While he enjoys reading about finance, "As a Man Thinketh" by James Allen is one of his favorite books.
Professionally, he enjoys being in hospitality due to the general "positive energy" that comes with the industry. Most people that visit his hotel are here for business conventions and/or vacation, so they're usually in a decent mood. Although hospitality has been his industry for the past 20 years, his path in Facilities Management has exposed him to other industries such as utilities, building automation, and healthcare. While he enjoys all aspects of his work, his favorite stages of a project are the beginning and the end.  In the beginning, he has the opportunity to collaborate with others to understand their objectives, and at the end of the project it is always fun to celebrate the accomplishments.  One of the most exiting projects that he was a part of was the renovation of SEAR. It is a 10,400 sqft fire inspired local and organic eatery with open kitchen at the Marriott Marquis hotel, specializing in seared steaks & seafood. Currently, his biggest challenge, like most of us, is COVID. He awaits for people to feel comfortable traveling again. "There's never a typical day" for Dave and states the importance of "having a plan and working the plan". However, he is well aware that any day will bring its own unforeseen redirections.
Dave states that his two greatest personal achievements are 1) being able to help others achieve their goals. He feels rewarded to see the impact he's had on others in their journeys. 2) Leading a Men's group at his church (Northpoint Community Church, Alpharetta). His success philosophy is "Servant Leadership" and considers humility to be the single most important quality that has led him to his successes thus far. If he could talk to his younger self, he'd tell himself "not to worry about the destination. You'll get there". While he is relatively new to IFMA Atlanta, he serves on the ADP committee and also looks forward to joining the Community Services Committee. If not Facilities Management, Dave would probably have a career in financial advising. One of his biggest "pet peeves" is when people drop in on him unexpectedly for cold calls. So please make sure you have an appointment if planning to visit. The Atlanta chapter is thankful for Dave Mason getting involved in our organization and look forward to growing together.
Dave Mason