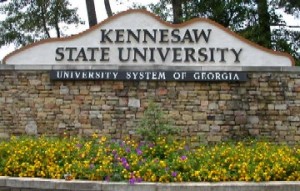 Dear IFMA Member,
The College of Continuing and Professional Education at Kennesaw State University has announced a new Facility Management Professional (FMP®) certificate program set to begin October 14th on our Marietta Campus. The classroom-based FMP® program from IFMA is the only one of its kind in the state of Georgia.
The new course offers individuals the opportunity to earn the must-have credential in facility management – a profession that encompasses multiple disciplines to ensure functionality of the built environment by integrating people, process, and technology. IFMA's FMP® is a knowledge-based credential for FM professionals and industry suppliers looking to increase their depth of knowledge in the core FM topics deemed critical by employers.
Occupational trends in this field are pointing upward.
The U.S. Bureau of Labor Statistics/Career One-Stop cites a 23% job growth for all administrative services managers, including facility managers, in the state of Georgia, through 2022.
Additionally, the median annual salary for all administrative services managers was $83,790 in May 2014.
Course details:
The FMP® program covers operations and maintenance, project management, finance and business, and leadership and strategy.
The 60-hour course consists of eight sessions held on Fridays, from 8 a.m. to 5 p.m. and Saturdays, from 9 a.m. to 5 p.m.
Registration cost is $4,995 which includes all course materials, interactive online study tools, and FMP® final assessments.
FREE OPEN HOUSE: Meet the instructor and learn more about this program by attending an information session at our July 28th Open House. An exclusive 10% discount is being offered to all attendees. Click here to register or call 470-578-6765 to reserve your spot at this free event!
MAILING LIST: Join our mailing list to receive more information about this essential course.
Please feel free to contact me directly for more information.
I look forward to seeing you in our October class.
Karen Smith
Manager
Strategic Initiatives
College of Continuing and Professional Education
Kennesaw State University
Phone 470-578-4344
3333 Busbee Drive, MD #3301
Kennesaw, GA 30144-5591