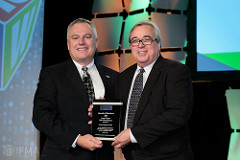 IFMA World Workplace 2015 was held October 7-9, at the Colorado Convention Center in Denver Colorado.  Attending from the IFMA Atlanta Chapter were a total of 60 members, including students, who enjoyed this magnificent "work hard, play hard" event in the shadows of the Rocky Mountains.
Once again, IFMA Atlanta led the way among all chapters with two national awards.  This year, Atlanta claimed awards for "Professional Development" and "Web Communications."  The awards luncheon was held on the final day of the conference.  The Atlanta Chapter once again distinguished itself as arguably the best IFMA Chapter in the country, having won "Large Chapter of the Year" four times in the past fifteen years, and accepting awards in a variety of categories for each of the last six consecutive years.
Notable among the accomplishments for the awards of excellence were the many informative and educational workshops held by the chapter, the first IFMA Chapter to attain "accredited provider" certification under IACET (International Association of Continuing Education Training), one of the country's premier continuing education provider organizations,  the new "Intern Connection"  webpage, and the new "Atlanta's Choice" specialty spreadsheet, which was developed so local professionals and vendors could connect more easily.  The "Atlanta's Choice" spreadsheet will soon be online in the IFMA Atlanta website, as well.
Kudos, Atlanta! Your excellence is showing, once again!