FMPipeline wins 2021 IFMA Award for Innovation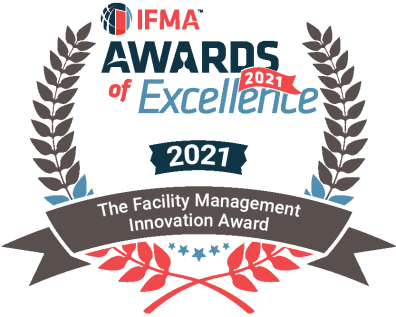 The FMPipeline Team won the 2021 IFMA Award for Innovation. This was presented to the Team at World Workplace in October. The mission of the FMPipeline is to engage the next generation of Facility Managers through the FACILITHON – an interactive experience that gives potential facility managers the opportunity to dip their toe in the FM water to see if they enjoy the field. FMPipeline works primarily through the SkillsUSA program at the high school level.
The IFMA award submission was centered on the FM Pipeline Team's innovations during Covid disruptions, beginning with moving the program fully online in early 2020 in anticipation of a shutdown. The pivot's timing was excellent, as the entire high school SkillsUSA ecosystem shut down a mere week later, rendering the Facilithon as the only Industry-sponsored SkillsUSA event running in the country for 9 months. The FACILITHON and its facility management career messaging continued to operate in the vacuum of Covid, engaging states that had not run the contest before.
The Team further innovated and pivoted to capture the interest of high school instructors by instituting the first Advisors FACILITHON for California. This offered a new model and opportunity for the FM Pipeline Team and SkillsUSA to share the contest with instructors of those students who have not decided on a career path and who want variety in their work life as FM's experience every day.
IFMA Atlanta has supported the FMPipeline Team since 2019 by serving on the National Board, FMPipeline Committees, and working as judges and in other roles at virtual contests held in multiple states. Laura Hammond, Clara Smith, David Mason and Ken Stephenson have been particularly involved alongside other members of the ADP Committee.
The FM Pipeline Team will be in Atlanta to run their inaugural National Facilithon at the SkillsUSA National Conference to be hele at the Georgia World Congress Center in June 2022. This represents a great opportunity for Atlanta-based volunteers to see the program in action and promote the career path to our Next Gen of FM. National event coordination meetings start in early January.