Date(s):

Wednesday, May 2, 2018


---

Time:

12:30 pm - 2:30 pm

---

Location

The Avalon Hotel
9000 Avalon Boulevard Alpharetta,.

---

Topic

Discovering New Technology


---

Speakers

Vik Bangia, Elizabeth Dukes, Mike Petrusky and Jeff King

---

Cost

IFMA Members - FM's - $40, Associate's $55 - Non-members $60

---

Questions?

Contact Lisa at 404-766-1632 or e-mail to lisa@ahqi.com

---
Add to Google Calendar:

Add to Outlook Calendar: iCal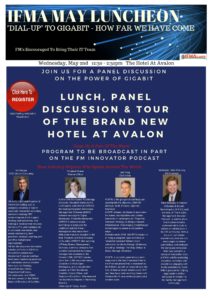 The $112 million project is the culmination of a public-private partnership to bring a world-class hotel, conference and event facility to the City of Alpharetta.  "Great innovations need great spaces," said Alpharetta Mayor David Belle Isle. "You simply cannot be a great technology city without great technology gatherings. Now, with the partnership of Stormont Hospitality Group, North American Properties and the City of Alpharetta, we eagerly await the opportunity to bring those great gatherings here to Alpharetta and fulfill our role as the Technology City of the South."
Join us for Lunch and a Panel Discussion and then tour the new Hotel at Avalon immediately after.
Valet Parking is included in the price.
Click on the links below for speaker bios:
There will be a tour at the end of the program.  Please indicate in the comments box below if you will be attending the tour so we will have an accurate headcount.
Bookings
Bookings are closed for this event.