New FM Member Iron Chef Cook Off Competition – October 3
Date(s):

Tuesday, October 3, 2017


---

Time:

4:30 pm - 7:30 pm

---

Location

Cook's Warehouse
1544 Piedmont Road, Suite 403-R Atlanta,GA.30324

---

Topic

New FM Member Iron Chef Cook Off Competition


---

Speakers

N/A

---

Cost

No Charge for Facility Managers who joined IFMA this year.

---

Questions?

Contact Lisa at 404-766-1632 or e-mail to lisa@ahqi.com

---
Add to Google Calendar:

Add to Outlook Calendar: iCal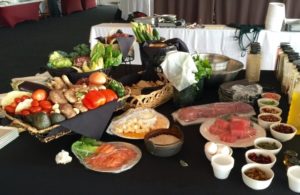 On October 3rd we will have a Iron Chef Cook Off Competition for all Facility Managers.  Any FM that is a member of IFMA Atlanta or any FM that is interested in joining or finding our more about IFMA Atlanta can attend at no charge.  This event will be held at the Cooks Warehouse in Midtown. New members have until September 19th to sign up.  After this date, registration will be open up to all FM's.
All the attendees will be given recipe books to take home. We will have wine and chef prepared appetizers.  Attendees will be broken down into teams of 6-8 for the cook off.
We would like to thank the following companies for their sponsorship of this event:
Trilogyfm
APCO
EMCOR Services/Aircond
Dekalb
CWC
AOLI
Flood Brothers
LED Cents
Crabapple
Rose Paving
Bookings
This event is fully booked.