Date(s):

Tuesday, November 14, 2023


---

Time:

11:30 am - 1:30 pm

---

Location

Training Room at Governor's Gun Club
1005 Cobb PL Blvd, NW Kennesaw,.GA

---

Topic

Effectively using your "Computerize Maintenance Management System" (CMMS)


---

Speakers

Jonathan C. Thomas, PE, CEM, CRL

---

Cost

No Charge

---

Questions?

Contact Lisa at 404-766-1632 or e-mail to lisa@ahqi.com

---
Add to Google Calendar:

Add to Outlook Calendar: iCal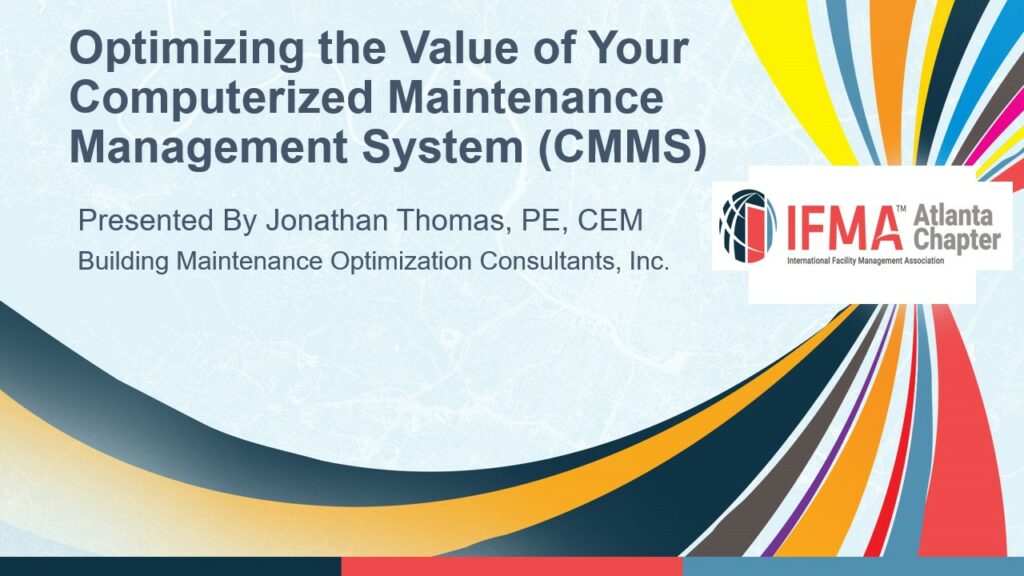 CEU Approved, Education Class
"FM's you spoke, and we listened!"
This upcoming Lunch 'n Learn session responds to a request for education on technology applications for asset management.
Are you utilizing and getting the most out of your CMMS system? Proper management of your building's assets can support getting the maximum life expectancy and minimize costs for operations and maintenance. Join us for a lunch and learn hosted by BMOC (Building Maintenance Optimization Consultants) as they dive into pain points and best practices of asset management.You will take-away key things to look for in your CMMS and ways to improve your facility asset management.. This is a 200-level CEU seminar.
Course Description:
This session has been designed primarily for facilities managers who use a computerized maintenance management system (CMMS) as a tool to optimize and manage their maintenance program. The session will last one hour. Organizations that operate and maintain buildings always strive to maximize asset reliability and energy efficiency while managing labor and material costs. One tool that is most often used in this effort is the CMMS. Many organizations are frustrated with the performance and perceive lack of value of their CMMS. Reporting is tedious to produce, uninformative, and unreliable. The problem may not be the CMMS, but rather the quality of information in the CMMS. The quality and completeness of the data in the CMMS is poor and taken for granted as a rote task. The session will focus on how facilities managers can increase the value of the CMMS to make informed decisions by making sure the data and information (asset attributes, preventive maintenance procedures, O & M manuals, etc.) is complete and accurate.  We will provide useful information and guidance to help CMMS users get more out of their existing CMMS without replacing it.
Learning Objective 1
Identify and describe the basic features of CMMS applications that the user can leverage to further support work order management, capital planning, and the provision of authoritative technical information for maintenance techs technicians;
Learning Objective 2
Identify and describe best practices for data acquisition and management including staff, processes, unique identifiers, labels, asset inventor &, data collection process, asset categorization, hierarchies, asset taxonomy, & life cycle modeling.
Learning Objective 3
Explain how a well developed asset database is the gateway to important facilities management initiatives like preventive maintenance programming, planning and scheduling, MRO spares inventory management, condition assessment, and capital planning.
Bookings
Bookings are closed for this event.