FM Exclusive Tour – King & Spalding Tour
Date(s):

Friday, September 23, 2022


---

Time:

7:00 am - 9:00 am

---

Location

King & Spalding
1180 Peachtree Street, NW, 17th Floor Atlanta,GA.

---

Topic

FM Exclusive Tour - King & Spalding Tour


---

Speakers

TBD

---

Cost

Attendee fee is $10/IFMA Atlanta member, $15 for non-members

---

Questions?

Contact Lisa at 404-766-1632 or e-mail to lisa@ahqi.com

---
Add to Google Calendar:

Add to Outlook Calendar: iCal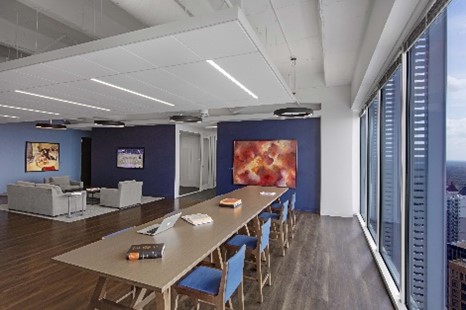 This 300K SF, renovation was completed just prior to the Pandemic and represents a significant departure from traditional law firm environments. The new aesthetic is light, bright and airy with an in-flux of color from art and furnishings. Some of the key features include the rooftop deck, the client facing meetings spaces with a two-story atrium on the 17th floor and the 18th floor canteen.
Agenda:
6:45 – 7 am: Guests Arrive.
7:00: Gather/Breakfast
7:30 am: Announcements/introductions of hosts/speakers – Joe Robertson, Committee Chair
7:35 am – 8:00 a.m.: Presentation of space (inspiration, plan, execution….)
8:05 – 8:45 a.m.: Tour of Space – Tour Host (King & Spalding)
Bookings
Bookings are closed for this event.