Date(s):

Wednesday, January 21, 2015


---

Time:

11:30 am - 1:30 pm

---

Location

Maggiano's - Cumberland
1601 Cumberland Mall Suite 200 Atlanta,.30339

---

Topic

Emergency Preparedness & Business Continuity - January Luncheon


---

Speakers

TBD

---

Cost

$30 members before 1/16; $35 members after 1/16; $45 non-members

---

Questions?

Jan 16; lisa@ahqi.com; 404-766-1632, ext 25

---
Add to Google Calendar:

Add to Outlook Calendar: iCal
Cyber Security – Takin' Care of Your Business
Approved by IACET for 0.1 CEU's
Join us on Wednesday, January 21st when Tom Madden, CDC's former Chief Information Security Officer will speak to us about Cyber Threats to business and both U. S. and international technologies. He will outline and discuss Cyber Threat Awareness for your business; why you should care; and what you can do to protect yourself and your company. At the end of this session you will be able to:
1. Define counterintelligence and distinguish the difference between foreign and domestic economic espionage
2. Understand the risks associated with cyber threats
3. Identify steps/actions that you can take to protect yourself from cyber threats
4. Identify steps/actions for countering cyber threats from foreign intelligence services (FIS)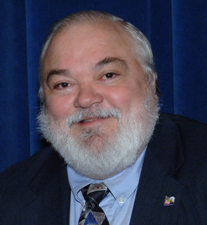 The speaker, Thomas P. Madden, was CDC's chief information security officer (CISO) from 2003 until 2013. After retiring in late 2013 after 37 years of federal service he was recalled to active service in 2014 as the expert security advisor to the CIO of the Centers for Medicare and Medicaid for healthcare.gov.
Prior to becoming CISO at CDC, Mr. Madden was the computer security operations manager at a nuclear weapon production facility with responsibilities for classified, sensitive, and unclassified computer security programs.
He is recognized as a national expert on developing information security programs and has been a featured panelist in Information Security magazine and at the Information Security Decisions Summit held in New York, the Gartner IT Security Summit, and has been a featured speaker at SecureWorld.
Madden holds a bachelor's degree in business administration and a master's in public administration and is a Certified Information System Security Professional (CISSP) and a Certified Information Security Manager (CISM) and in 2013 was commencement speaker and was awarded an Honorary Doctorate in Information technology by the University of Advancing Technology.
Bookings
Bookings are closed for this event.