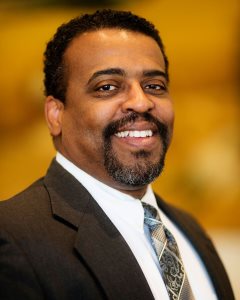 Interviewed by Debi Gilbert, CRE Business Development, Greenwood Group Landscape.
The Atlanta Chapter of IFMA is very excited to share with you that our current Chapter President, Dr. Charles Marshall, is now serving as the Energy Director for HUD in Washington, DC. I recently had the opportunity to interview Charles about not only this new role, but his background and history which led to this assignment.
Charles was born in the Bronx, New York and grew up mainly in Washington DC before spending his High School years in Prattville, Alabama. Both of his parents were government employees. His father worked for the UN as well as the Army, and his mother worked for the Pentagon and also the Army. Fast forward several years, and his mother retired while his father became an entrepreneur, owning a furniture store, a video store, a skateboard store, and now currently owns a camera shop.
I asked Charles "While in high school, what do you see yourself becoming as an adult"?
"I wanted to be a doctor, a physician. I took college Anatomy while in High School…and that changed my mind (laughing). I then decided to pursue an Electrical Engineering degree from Auburn University. At that time, Auburn had one of the premier engineering schools in the South, and had recently gotten the 'Star Wars' program (Strategic Defense Initiative). A big plus for me was that Auburn was a state school, and at that time tuition was around $365/quarter."
After leaving Auburn with a Bachelor's Degree in Operations with an Engineering Minor, Charles went to work for Amoco in South Alabama in the manufacturing sector for about three years. At this time, he also returned to school and attained his MBA in Information Systems from Troy University.
During this time, Charles walked into the bank one morning and ran into the then President of Selma University. (Selma, Alabama) The President asked Charles if he would come to the University and teach, and Charles did just that for three years. While there, the Atlanta Housing Authority was in the process of being taken over by the Federal Government and Charles was asked to come to Atlanta to work on their Energy Program. Through this work, Charles became one of the leading authorities in the country for energy for housing, leading the energy management team of the Atlanta Housing Authority which  at that time was the fourth largest housing authority in the U.S. He and his team  implemented a robust energy management program including the first energy savings performance contract for a public housing authority.
From this position, Charles was recruited to Fort Benning in Columbus, Georgia to work with the United States Department of Defense as a Resource Efficiency Manager, helping Fort Benning, the U.S. Army's largest training installation, move toward federally mandated energy goals program for which he has received numerous accolades.
"I earned several certifications while working with the Army. I was a contractor with the Army, working closely with the Commanders and Generals. Most people assumed that I was enlisted due to these relationships. I was fortunate to receive coins and letters from these Commanders and Generals. The one thing I never did that I now wish I had…jumping out of a plane (laughing). But I did have some amazing experiences while working there."
After three years at Fort Benning, a position opened at Hartsfield-Jackson Atlanta International Airport, seeking an individual to create an energy program for the airport. Under Charles' leadership as Utility Manager for the airport, ATL became the first U.S. airport to have its energy management system certified to the ISA 50001 standard. This became a worldwide benchmark for the Aviation Industry, and also won the airport numerous awards as well as Charles.
Charles shared with me that through this work, he had the opportunity to visit many airports around the world and share with them the knowledge and practices that had been implemented in Atlanta. He also served for six years as chair of the ATL EcoDistrict, the first registered EcoDistrict at an airport. While serving on the Airport Cooperative Research Program (ACRP), Charles' efforts led to the creation of the first guidebook for water efficiency management at U.S. airports.
Charles now feels that all of this has come full circle. As the Energy Director for HUD, Charles is leading the way for strengthening the energy program for public housing.
"The new administration is very focused on and broadening energy and sustainability, and finding ways to shore these up within housing."
Charles feels that his work life, his spiritual life and his personal life all roll up into one another, helping him to help others.
In 2006, Charles earned the Master Divinity degree from the Interdenominational Theological Center. He followed up with a Doctor of Divinity from American Bible University. Charles has been involved as a pastor, minister and evangelist for 30 years. He pastored for 12 years, was an associate pastor for 14 years, and has also worked as a youth pastor, director of music, Christian educator and more.
"Growing up, many times my pastor and his wife would stop by to pick me up on the way to church. There were several people who assumed I was the 'preacher's kid' (laughing)."
On September 11, 2001, as the planes were plunging into the towers and the Pentagon, Charles received a call from the CFO of the Atlanta Housing Authority, asking him to come to the Executive Boardroom.
"They said, 'We need for you to come and pray for our people' and all who wanted to pray were invited to join me in the boardroom."
(Me) "What led you to Facilities Management?"
"In working with the housing authority, the main focus was on utilities, it was FM 101. I was doing on the ground work with not only the energy staff but the Property Managers, the maintenance staff, the regional directors…the work they did day to day affected the utilities. There were things they were overlooking or not seeing, and I had to train them to recognize that these things were hurting the utilities piece. I began to receive a lot of attention from the senior people in the organization, and cooperation became greater with the FM folks that supported some of the changes that happened in public housing."
(Me) "And now you are here in Washington, DC serving our country. How did all transpire?"
"I heard about the position and I applied. The next thing I know, I receive a call and an offer. Part of this role involves a number of energy programs and incentives within public housing. I am also involved with moving an energy center within the financial division of public housing."
Charles quickly recognized that he is unique to the organization. He is getting a lot of attention in sharing the public housing energy program owned by states and the housing authorities, (4.8 billion of that budget goes toward utilities).
"How can we promote and encourage the individual Public Housing authorities around the country to improve operations? It is unique because individual Housing Authorities are owned by the states they lie in, not the Federal Government. It is more about affecting change, and promoting change. With President Biden's move towards increasing sustainability and climate protection within the housing arena, I have been able to do cross work with other programs, looking at opportunities of development within the programs that deal with affordable housing."
(Me) "In closing, give us a glimpse into your personal life outside of work."
"Although I am not married and do not have children, I have a 'whole bunch of kids' that I have mentored over the years. They all come back and they act like they are my kids (laughing), and I love it."
(Me) "Hobbies? Special interests? Pets?"
"No pets (laughing). But I love biking, fishing, being outdoors. I'm what I refer to as a 'jackleg carpenter' and I find a sense of peace when working on carpentry projects. I also love to garden, especially vegetables and fruit trees. And then I enjoy music…listening and playing. My first instrument was the viola, and I also play the piano and organ – both the pipe organ and the Hammond.
(Me) "Any special message to your IFMA family?
"It has been a unique and very much appreciated opportunity to serve the Atlanta Chapter  during this unprecedented time with the pandemic. There is still so much opportunity for Facility Managers, as well as those that are involved in FM either directly or indirectly. And it has been a great learning experience and opportunity to help those in the Chapter to grow as well as grow myself."
I close with a personal thought. I miss seeing Charles and spending time with him, as I know many others do. That being said, I am incredibly proud of all that he has accomplished, and that he is now serving our country in such an amazing capacity