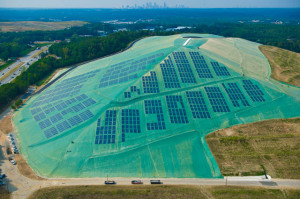 Nearly 33 acres of city-owned property could harness renewable energy
BRIGHT IDEAS: City's planning to cover old trash mounds with solar panels, similar to DeKalb County's Hickory Ridge Landfill.
For years, the city's now-closed landfills have done nothing but sit idle and emit methane. Now, more than 30 acres of city-owned property, including those former trash heaps and parts of Hartsfield-Jackson International Airport, could be converted into solar farms.
City Hall officials are considering a proposal to lease up to 32.9 acres of public land to a private company that would install, maintain, and operate solar panels on the properties. The effort has the potential to be one of metro Atlanta's largest public solar energy programs.
New Generation Power Inc., a Chicago-based energy company, recently won the City Hall proposal and would cover all costs related to the solar farming project. The 20-year lease agreement includes the option of a five-year extension.
If the Atlanta City Council approves the deal, New Generation Power would be tasked with applying to a lottery held by Georgia Power in May that gives individuals, small companies, and other organizations — including the city — the chance to harness solar power and sell it back to the energy company as part of its larger green initiative.
Denise Quarles, the city's sustainability director, says the move could increase renewable energy and help lower greenhouse gas emissions. The lottery's outcome would determine how many acres would be converted into the solar farms. But it could result in the city's largest clean energy endeavor to date.
"It's a great opportunity," Quarles says. "Georgia has one of the fastest growing solar markets. The city saw it as a great program."
Atlanta's partnership with New Generation Power could lead to the installation of enough solar panels to add five megawatts, or enough energy to power approximately 525 homes each year, to the city's energy portfolio.
The move would also enable the city to make a potential profit from its unused land that officials claim have minimal resale value. In recent years, Cascade Road Landfill in southwest Atlanta, Gun Club Road Landfill near Perry Boulevard, and Key Road Landfill off South Moreland Avenue have not accepted waste on their premises and capped the trash mounds. Quarles says the solar initiative would generate "some form of revenue" — exact figures are still pending — through selling energy back to Georgia Power.
Colleen Kiernan, director of the Sierra Club's Georgia chapter, says Atlanta's effort mirrors recent renewable energy initiatives in DeKalb County. In 2011, the former Hickory Ridge Landfill underwent similar changes and was converted into a solar farm. The 48-acre DeKalb County waste mound was outfitted with 10 acres worth of solar panels and can now produce around one megawatt of power. In Atlanta's case, she thinks the city's solar farming plan is "probably the best thing" the city could do with the former landfill sites.
"It's a win-win situation," Kiernan says. "It's the best alternative the city could do with the landfills."
If Atlanta wins the Georgia Power lottery, New Generation Power would be expected to have the solar farms up and running by the end of 2014. Provided everything pans out, Quarles says city officials could consider further investments in solar tech and other renewable energy plants on its properties.
Below is the link to the original article
http://clatl.com/atlanta/atlanta-wants-landfills-turned-into-solar-farms/Content?oid=10864169