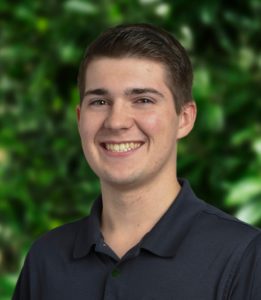 Written by Henri Brickey, Whitco Roofing.
This month's IFMA Atlanta member spotlight focuses on Dylan Murray, a senior at Kennesaw State University who will be graduating next month with a bachelor's degree in Construction Management, with a concentration in Facilities Management.
Unlike many, who fall into the FM field by accident, Dylan has been planning for his career in construction and facilities maintenance for years.
"I have always liked working with my hands, building things, and figuring out how things work. That has led to my interest in construction and facilities management," Dylan said.
After enrolling in KSU's FM program, Dylan – who graduated from high school at Kennesaw's Cornerstone Preparatory Academy – knew he had found the right place.
"Both FM professors at KSU (Dr. Pammy and Prof. Williams) are very passionate about Facilities Management. Additionally, all of the students in the FM concentration are very passionate about Facilities Management. It's a different level of passion than I see with the other Construction Management students. Everyone seems to genuinely care about what they do and get excited about problem solving. The passion I see is the main reason I have enjoyed the FM classes."
Dylan's passion for problem solving and getting things done have already caught the eye of employers.
He is currently working full-time as an Assistant Project Manager at C&W Contracting Services, Inc. That's 40-plus hours a week on top of taking a full course load at college.
"I don't have much time outside of work and school," he said.
At  C&W Contracting Services, Inc., Dylan does mainly commercial renovation work including medical renovations and tenant upgrades.
"My FM classes have actually helped me relate to some of the people I work with since we work with Facility Managers, Property Managers, Building Engineers, and other similar FM roles."
Dylan  works with the President of C&W and keeps busy by creating proposals/estimates, coordinating with subcontractors, conducts quality control checks and any other project management items that come up.
Before going to C&W, Dylan worked with Traton Homes as an intern in Summer 2017.  He recently accepted a full-time Assistant Superintendent position with Fischer Homes that he will start after graduation in May.
Somehow, Dylan still finds time to run several miles on most days.
"The main thing I do to relieve stress is run," said Dylan, who ran cross country in high school and whose sister will be running for Valdosta State University's cross country team when she begins college there next fall.
Throughout high school, Dylan was an active wake boarder – an activity he says he would like to pick up again sometime.
Dylan Murray Q-and-A:
What is your dream job? My dream job would be to work for myself or own my own business. I have a few ideas and I will see where my life takes me with those ideas.
Worst or craziest job you ever had? I used to referee soccer games in high school. I would say that has been my craziest job because of some of the players and parents.
If you had to create a personal slogan, what would it be? My personal slogan would be something along the lines of "hard work is everything." I have worked while taking college classes and once I graduate in May, my completion time for my degree will be 3 years. I simply took as many classes as possible and managed work and school week by week. Sometimes you must take what life throws at you and just get it done. 
If you could only have one book to read the rest of your life, what would it be? Or what is the most influential book you have ever read? The most influential book I have read is "Essentialism", by Greg McKeown.
If you could have a freeway billboard sign with any content you wanted on it, what would it say? I would want the billboard to say "Be Positive." I think many times people focus on the small negative things in life, when we as humans in this time period can do just about anything imaginable. Positivity in life can lead to many good things.
Hobbies/interests? What do you do to relieve stress? I have season tickets for Atlanta United and play soccer. I kayak, hike, and like spending time outside. The main thing I do to relieve stress is running.
Other than your career, what other skill would you like to develop most in life? I'd like to learn a second language.