Dear Fellow IFMA Members: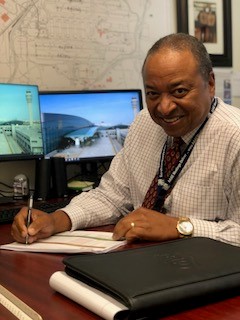 First my apologies for not distributing the update last month… this Covid-19 challenge has had me a little distracted!  For me, there's no question that this has been my biggest obstacle yet in managing facilities.  I've had to lead my teams through earthquakes, hurricanes, tornadoes and even volcanic eruptions but this has been the toughest I've seen with regard to business impact, disruption and ciaos.
If you're managing a facility of any size, chances are you've had at least one employee test positive which triggers a host of disinfecting and sanitizing protocols guided by the CDC to insure health risk to employees are returned to an acceptable level.  The process is tedious, highly technical and involves chemical treatments most of us have never used before.
In most cases it's going to make sense to bring in the experts and allow them to lead in the clean-up effort given their experience and training with the methods that yield the highest effectiveness.  And as I told a colleague recently; "it's like hiring a brain surgeon…you never want the cheapest one"!
This is serious stuff and most everyone has been touched in some way.  Sadly the World Health Organization (WHO) has reported global impacts of 1,812,734 cases and 113,675 deaths; the Center for Disease Control (CDC) reports 554,849 U.S. cases and 21,942 deaths.  Clearly, our vigilance to the highest safety standards possible is greatly warranted.  You should have your "essential employees" that need to report to work because of the criticality of their jobs to the public and the company be advised to embrace the CDC's recommendation for Personal Protective Equipment (PPE) that's properly prescribed for the work they are doing and the perceived level of risk.  The following link: https://www.cdc.gov/coronavirus/2019-ncov/prevent-getting-sick/prevention.html provides you the CDC's recommendations to prevent the spread of the virus and enable us to "flatten the curve" and save lives and misery.
Overall, I'd like to remind you to stay upbeat, the world's greatest minds are working to solve this problem and I'm 100% confident they'll figure it out sooner than later.  In the meantime, practice your social distancing, disinfecting and sanitizing and if at all possible encourage people to just stay home!  The IFMA Website will keep you posted on when our activities calendar gets back to normal.
Stay Healthy and Safe!
Sincerely,
John Means, CFM
President, IFMA Atlanta Chapter
r